November is Movember, a time to raise awareness of men's health! Here at Zenni, we want to celebrate Movember with two promotions:

Show us your 'stache on Instagram and Twitter with hashtag #zennimo and you can win the grand prize of a $300 Amazon card or one of three $100 Amazon gift cards.
Every time you use the hashtag, we donate $5 to The Movember Foundation. We have a goal of donating $10,000, and we hope you'll help us reach it!

Need some inspiration? Check out these iconic staches:
Tom Selleck as Magnum P.I.

Magnum P.I. not only needed to look cool, he also had to protect his eyes from the sun. These aviators in brown alloy with an amber tint  give you plenty of sun protection while going just so with your Hawaiian shirt.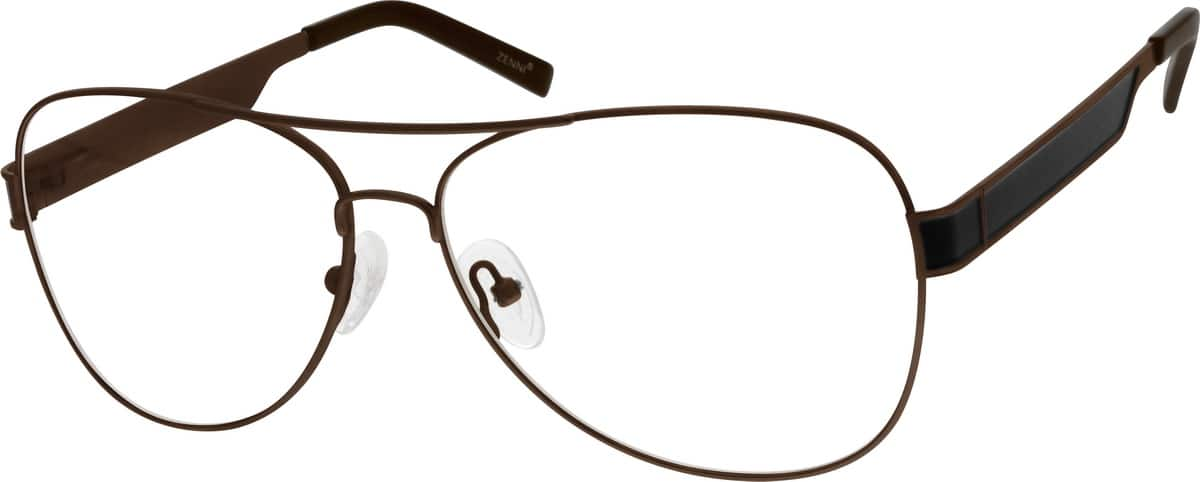 Frame #559615

Anthony Edwards as "Goose" in Top Gun


While Goose came to a sad end in Top Gun, we can take comfort in the fact that his alter ego went on to an illustrious career in emergency medicine. His sunglasses were aviators, naturally, and these silver frames blue lenses will take you from aircraft carrier to medical center (and everywhere else) in style.




Frame #419111

Freddy Mercury


Nobody had pipes like Freddy and nobody has ever captured his incredible style. Here we have a pair of titanium aviators (it seems to be a thing with mustachioed men), but with an extra bar over the nose. Add some blue tinted lenses for a serious rock and roll look.




Frame #217212

Burt Reynolds


Burt Reynolds was mega, mega man in the 70s and nobody wore a stache like him: On the rare occasions when he appeared clean-shaven, something always seemed off. To capture his look, try these black aviators with a yellow tint.




Frame #236025



Friday, October, 31 2014 by Lainie Petersen
Hopefully you are getting settled into fall and appreciating some cooler weather and colorful foliage. We're doing the same here at Zenni, at least when we aren't planning fun stuff like our Halloween costume contest! We're also getting raves about our fall frames, so we decided to share a few more with you:




Frame #677525

Here's a pair for the men: Half-frame Clubmaster-style rectangles combine gold wire and tortoiseshell for a professional look that'll still get you noticed at happy hour.




Frame #787321

Here's a pair of cat-eye frames with a wee twist: Instead of smooth, swooping curves, these frames incorporate some straight lines and subtle angles. Perfect for making an impression at work or in the classroom. The black/silver combo also signals that you mean business.




Frame #285926

Here's a very different sort of cat-eye frame: Blue with tortoise markings. While I don't think there are any cat breeds that actually match this description, the frames themselves are beautiful. Try pairing these with gray or navy clothing for a stunning look.




Frame #184116

This fall appears to be the season of the cat-eye: Here's a classic, elegant pair of cat-eyes with thinner rims that frame your eyes beautifully. Notice the dark, dark blue of these frames: I'd pair these with black clothing for a subtle, elegant contrast.


Friday, October, 24 2014 by Lainie Petersen


Last year's Master of Disg-Eyes contest was a hit, so we're doing it again!

Here's how it works:
Like our Facebook page.
Come up with an amazing costume, have someone take a picture, then upload the picture to our contest site.
Starting October 27th, get your friends and family to vote for your costume! They can vote once a day until November 4th.

This year, the grand prize is a GoPro Hero 3+, plus we have $50 Zenni gift cards for winners in four other categories: Most creative, best couple/group, scariest costume, best look-alike.




Need some inspiration? Check out last year's winners:


Steven P. dragged himself to the grand prize finish line by pairing half-rims with a new blonde-do.
Ava O. won "most creative" with her Lichtenstein-inspired costume and some awesome wayfarers!
Rebecca F. and friend became a superhero duo for a day.
Robin R. wore some wire rims to become one of the crawling dead.
We did a double-take when we saw Jeff R. all dressed up as "The Professional."

Need more ideas? Check out these entrants from last year.  Enjoy, and get creative!

Friday, October, 17 2014 by Lainie Petersen
October is Breast Cancer Awareness Month and we at Zenni want to do our part to help find a cure. That's why we're promoting Zenni Pink, incredibly cute pink and pink-and-black frames that'll turn heads wherever you go. Even better, we'll donate $1 for every pair we sell through October to either the Susan G. Komen or $1 to the National Breast Cancer Foundation!

Have a look at these awesome Zenni frames:




Frame #107219

First up is this pair of pink wayfarers: Classic styling with silver ornamentation, but the color is decidedly pink. Pair with black or gray clothing for maximum impact.




Frame #107319

This is basically the same pair, except with a larger frame that offers a wee bit more coverage. Try these as sunglasses…and yes, you do need sunglasses in fall and winter. Remember the glare from the snow? Also, these pink glasses frames will look HOT when you're sporting your summer tan.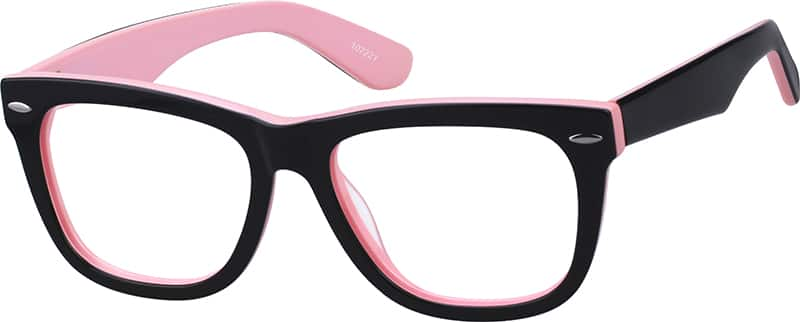 Frame #107221

I confess that these remind me of the new wave fashion so popular back in the 80s: From the front, these look like typical black wayfarers, but they contain a special surprise: They're pink on the inside! Awesome to wear anytime, but will look particularly great for a night of clubbing.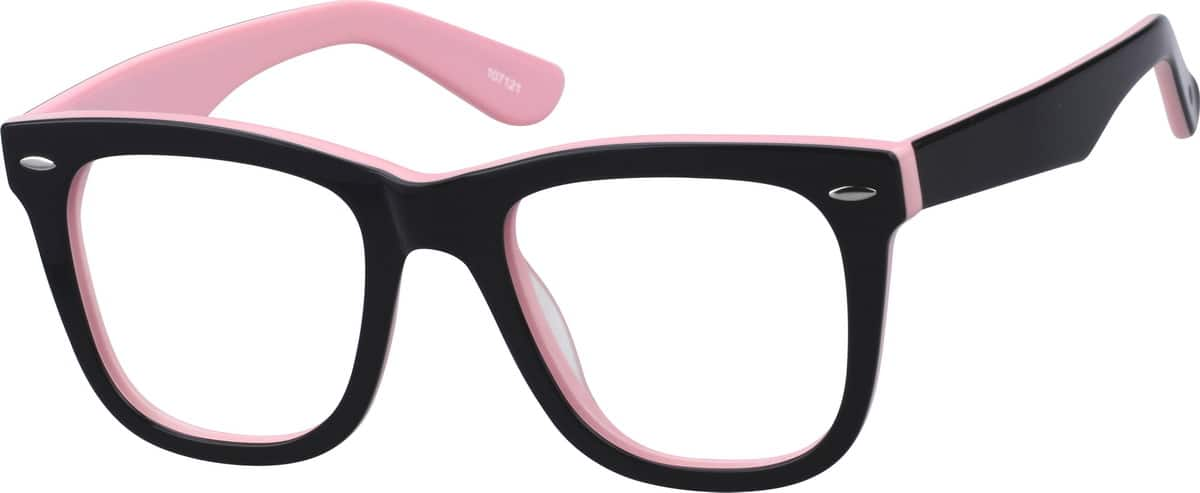 Frame #107121

As with the pink frames above, we also offer this pink-and-black look in a larger size. These offer a bit more coverage, which some people prefer. These also look incredibly cool as sunglasses.

Looking for other styles? Zenni offers a full range of frames in many different colors, including pink! Check out our site to see all that we have to offer and show your concern for breast cancer research by going pink this October.


Friday, October, 10 2014 by Lainie Petersen
Are you looking to wow friends with a pop culture costume this year? Read on. We've got some remarkably affordable ideas for you! All of these costumes are $100 or less and many are in the $50 range.

Note: You can still wear the recommended Zennis even if you don't normally wear glasses. All of our frames can be ordered with optical quality, non-prescription lenses!

The Wolf of Wall Street's Donny Azoff – $100.07

If you are a fan of The Wolf Of Wall Street, dressing up as Donny Azoff ought to be a great deal of fun, particularly with all those bright colors that he wears. Here's what you need to get this look:

Purple Gradient Tint Wayfarers
Frame #303623 with Purple Gradient Tint – $33.90
Get started with these glasses with clear front rims and silver-ornamented purple temple arms, and add a purple gradient tint to help re-create the Donny Azoff look.



Scooby Doo's Velma – $84.63


Go solve a caper, you meddling kid! All you have to is dress up like our favorite character from Scooby Doo – Velma! Here's what you'll need:

Black Rimmed Glasses
Frame #612921 – $25.95
These no-nonsense black wayfarers are a perfect way to set the tone for this classic costume!



Orange is the New Black's Alex Vause – total $56.09

Prison fashion isn't exactly stylish, but it is functional, which is why you'll probably want to hang on to much of this costume long after Halloween.

Black wayfarers
Frame #619021 – $19
Simple and straightforward: Wear these black wayfarers on Halloween and then straight through fall and winter. There is no eyeglass style that's more of a classic than this one.



Khaki V-neck work shirt
V-neck khaki scrub from Dickies – $10.99
Simple, functional and easy to care for, this is a nifty scrub top to have on hand after Halloween: If you don't work in the medical field, wear it when scrubbing your kitchen or bathroom.



Khaki Pants
Khaki skinny pants from Justice – $20.59
Flattering and comfortable, these khakis have plenty of pockets for all your Halloween candy. Wear them for casual days out on the town, or even around the house during the rest of the year.









Temporary Tattoos
Temporary Tribal from Tattoo Sales – $.74
Rose temp tattoo from Funtoos – $4.29
Alex likes her tats and they certainly add color to an otherwise bland wardrobe. You could, we suppose, get inked for the holiday, but that's a pretty big commitment. Check out these temporary tattoos instead.







Badge Holder
4×3 plastic badge holder from Specialist ID – $.48
You may have one of these lying around if you've recently been to a convention or conference. If not, now you know where to get your prison ID holder.




Breaking Bad's Walter White — $43.98


There are few TV characters more iconic than Walter White and, fortunately, getting his look is both easy and inexpensive. You'll also be well-equipped for any post-holiday science experiments that you wish to conduct:

Rectangle Frames
Frame #3132111 – $23.95
Walter is a practical fellow who wears practical glasses. These titanium full-rims from Zenni are just that: Practical. Keep 'em as a spare pair. Or not. They'll work great with this costume.



Saturday, October, 4 2014 by Lainie Petersen