OK, we get that you may not be into ugly Christmas sweaters. But if you'd like to contribute some general holiday cheer to the world, while avoiding potential embarrassment, here are some frames to consider from our holiday collection: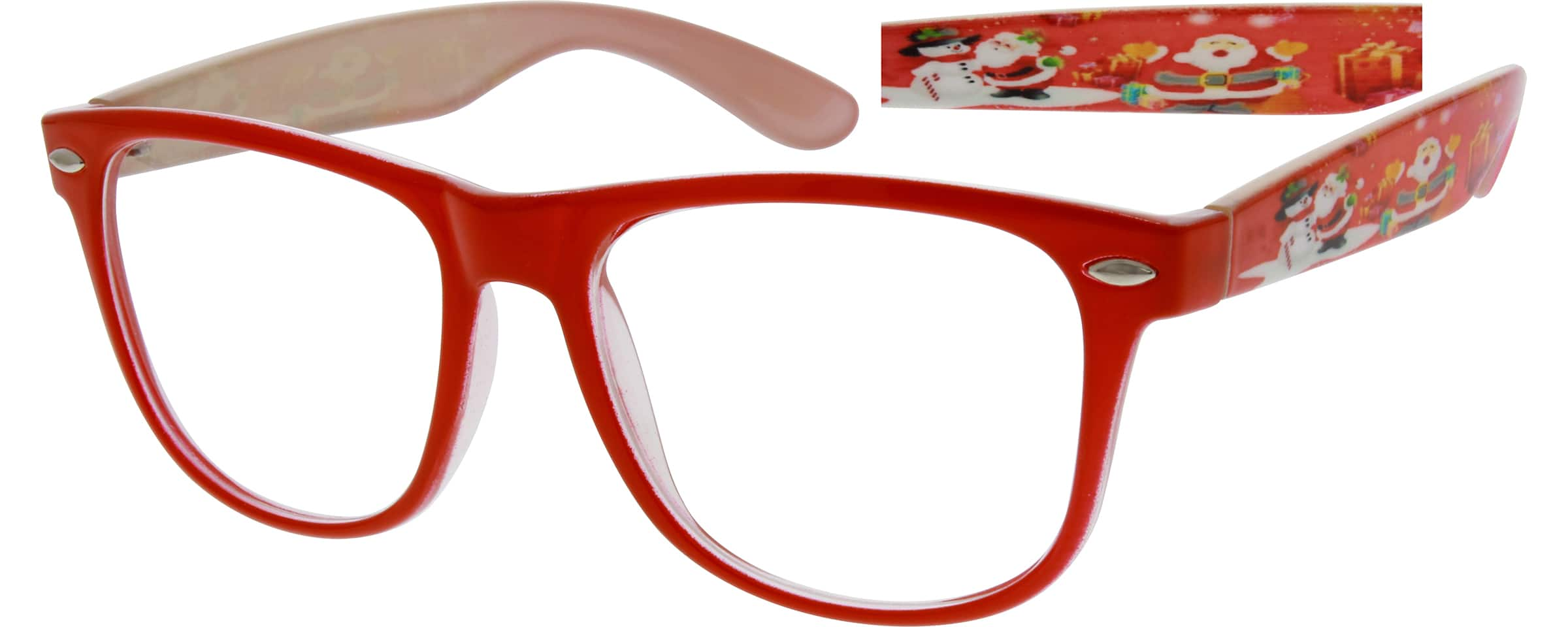 Frame #284718

The bright red color of these wayfarers is quite Christmas-y on its own, but wait…there's more! The temples incorporate a wonderful holiday motif of Santas, gifts and snowmen.




Frame #184424

If you look hard in the holiday candy section of most drug and grocery stores, you'll find an old-fashioned treat called ribbon candy. This is a hard candy in multiple colors that has been pulled thin and bent into what looks like ribbon art. These stripy frames remind me of the thin, elegant lines of color created by the pulling process. Subtle, beautiful but also very much a celebration of the holidays.




Frame #624617

As far as subtlety goes, this frame ranks somewhere between the first two on our list. The fine-line drawings of colorful Christmas symbols on black is probably safe for work, but also cheerful enough for family gatherings.




Frame #738218

If you are all about the luxe life, check out these frames. Plum frames accented with a carved design and a few rhinestones makes for a sophisticated look at evening parties.


Friday, December, 19 2014 by Lainie Petersen


Art is a healing medium for so many people. The ability to create something beautiful by engaging the mind and body can offer artists hope, stability and inspiration. One organization, ArtLifting, seeks to provide creative opportunities to individuals who might not otherwise get a chance to not only create art, but to sell it. ArtLifting provides space and materials to artists who are disabled, homeless, or struggling with addiction. These artists can then sell their work through ArtLifting and other galleries.

The ability to sell and make a living from creating art means a lot to ArtLifting artists. This is how one artist explains the impact of the program on his life:

"A month or so ago, somebody saw my artwork on ArtLifting and because of that, I'm having my first solo show… If things keep going like this, I won't have to live on disability anymore. And that feels great."

–Allen Chamberland, ArtLifting Artist.

Last month, Zenni paid a visit to ArtLifting's studio in San Francisco. Zenni staff got to meet the artists, check out the facility and see some of the amazing artwork on display. In addition, Zenni was able to present free eyeglasses to artists who need vision correction but can't afford an eye exam, frames, or lenses. Zenni is proud to be able to support the ArtLifting mission and encourages our blog readers to check out this incredible organization.


Thursday, December, 18 2014 by Lainie Petersen

We've blogged before about how wearing glasses can make you seem more intelligent. Now we'd like to hear about how your glasses carried you through your school days. If you are a high school senior who has been accepted to an accredited college in the United States, or a student at an accredited university in the U.S., you are eligible to compete for one of three poetry scholarships! The grand prize winner receives a $5,000 scholarship, with two additional prizes of  is $3,000 and $1,000.

As you might expect, there's an eyeglass theme to this contest. We want you to write 250 words, or less, on "Growing up with Glasses: The Formative Four-Eyed Years." Naturally, we hope you'll get creative as you describe wearing glasses in the classroom, on the football field or just while hanging out with friends. You could maybe even write an ode to your eye doctor!

Naturally, there are a lot of other details involving GPAs, transcripts and letters of recommendation that we won't get into here. Mosey on over to our official scholarship website to learn more about the scholarship and its requirements. The deadline is April 1st, 2015, so don't wait too long to get those creative juices flowing.
Tuesday, December, 16 2014 by Lainie Petersen
1. Elf Christmas Sweater
UglyChristmasSweater.com – $51.99



If you can't dress up as Santa this Christmas, try this elf sweater paired with simple black frames adorned with cunning silver stars. Aren't you precious?



Frame #220421
2. Quirky, Yet Conservative
Croft and Barrow – $30



OK, a part of me is really reluctant to mock this sweater, particularly since it is in such lovely, muted colors. Still, it is a Christmas sweater, which is always problematic. Try pairing these lovely frosted blue frames below with this sweater and make a statement at your next holiday party.




Frame #270516

3. Get Your Fat Pants Ready!
Ugly Christmas Sweater Party – $34.50


My main objection to this sweatshirt is that turkey isn't a terribly caloric meat, making the statement about "fat pants" untruthful. The problem is the side dishes, Christmas candy and sweet booze that we all love to consume this time of year. Still, our lovely tortoiseshell rectangular frames nicely pick up the color of an expertly roasted holiday bird.



Frame #293125

4. The Other Ugly Christmas Pullover
The Sweater Store – $35



This sweater took me back to the early 80s, when MTV played music and we got to play around with a LOT of bright colors. Pair this sweater with some denim jeggings and these purple frames for a fun party look!



Frame #229317

5. The Sporty Look (available for all NFL teams!)
Clark Toys – $69.99



Sports fan? Show your team spirit with this sweater. Pair with some black wayfarers with blue accents and you'll be looking good this football season if you're rocking this Chargers sweatshirt.



Frame #244621

6. The Adult Onesie
Tipsy Elves – $79.95



The time-honored Christmas adult onesie ensures that your 2-year old nephew won't get all the attention this year at your family's holiday cabin. Pair them with these sturdy black frames that won't fall off your face no matter how many arguments you and your sister get into.



Frame #234521

7.  The Sasquatch
Middle of Beyond – $79.99



Like Santa, Bigfoot is a mythical creature. I can't think of any other parallels at this time, but I'm sure that contrarians will take great joy in wearing this Sasquatch Christmas Sweater along with these tortoiseshell frames. Deck the halls, everyone!




Frame #273425
8. The Christmaster
Ugly Sweater Store – $110



Why settle for a mere sweater when you can have a whole Christmas suit! Liven up your family parties with this Christmas suit paired with the nerd-licious black wayfarers below. Try wrapping the bridge with some green duct-tape for the full effect.




Frame #612921


Saturday, December, 6 2014 by Lainie Petersen
Don't get so distracted as you comb through this weekend's deals that you forget about yourself! Below are three of our top selling frames, which are all curiously classic in design. (Each of these can be ordered with standard or tinted lenses.)

Treat yourself to a new pair for the New Year!




Frame #270416

Our classic wayfarers are always popular, even with those folks who aren't into geek-chic. Even better, while you can certainly buy these frames in basic black, they also come in light blue, green, and even a transparent/orange model.




Frame #270416

Standard wayfarers are distinctly unisex, which is just fine, except when you want to wear something that's a bit more ladylike. Here's a set of cat eye frames that still echo the classic wayfarer look. Basic black goes with everything, but try the tortoise shell for a bit of fun.




Frame #612921

Zenni recommends these wayfarers to customers who want to look serious. While there is something to this recommendation, I'd also say that these square-ish frames could also be deeply ironic when paired with a neck beard and trilby. Give the look a try and see what happens.

Don't forget: Zenni sells e-gift cards! Our  gift cards allow recipients to choose and customize their own glasses (or sunglasses) right on Zenni's site.


Friday, November, 28 2014 by Lainie Petersen