Archive for the 'Eye Frames Online' Category

Frame #270421

NYE style varies from person to person, event to event. Black tie parties at downtown hotels require a heavy dose of glam, while pizza and beer at your best friend's place merits your best black skinny jeans and a funky top. But whether you plan to dress up or down this New Year's Eve, a bit of glitter is always an appropriate way to greet the new year.

Why? I'm not entirely sure, but I think it has something to do with celebrations. We all love watching the pretty, sparkly bubbles rise to the top of champagne, and the mirrored ball that graces celebration in Times Square.  Heck, New Year's Eve is even time for fireworks in many places. A pair of gold glitter frames will add a festive touch to any NYE outfit and will be a great conversation starter!

Now aside from Zenn's other selection of glittery frames, we can show you how to make your own. Check out this post on DIY glitter frames and get crafting. In fact, we'd love to see your creations! Tweet them to us at @zennioptical.

Happy New Year!


Monday, December, 29 2014 by Lainie Petersen
World Cup fans are excited about the semi-finals match between Germany and Argentina! For fun, we decided to have a look at some frames that feature the colors of each team. Enjoy!

Germany
Root for Germany in these red and gold full-rim glasses. The floral detail on the temples gives them a wonderfully feminine look.

Keep it casual with these yellow and red plastic full-rim glasses. I love how the red and yellow come together to look like flames!

Looking for something more formal? These plastic full-rims in red with yellow/gold accents fit the bill nicely. The cat eye style is ultra-feminine and will certainly get you noticed at school, the office and while out with friends!
Argentina



Argentina fans take note: These dreamy blue frames look great against a tan and will put everyone in mind of the beach! A great summer casual look.

Are any of your children Argentina fans? These sporty glasses are great looking and can take the beatings that active kids can give.
Get down to business with these stainless steel full rim glasses. This is a very conservative design, but the subtle blue accent makes these glasses a lot more interesting than if they were just plain silvertone.
Monday, July, 14 2014 by Lainie Petersen
Let me tell you a little secret. You don't need a prescription to wear glasses. Often times, it's a conscious choice, something you do because you can. Everyone is doing it. It's as deliberate a decision as a pixie cut and it can be just as trendy. Forget about functionality. These rimmed accessories are fashion statements that anyone can wear with pride. The geekier they are, the better!




If you're a newcomer to this lensless world of geek-chic, allow me to introduce you to the scene. Somewhere between the Japanese teenagers who started this trend and NBA superstars LeBron James and Kevin Durant who perfected it, glasses for the non-glasses wearer have become fashion necessities.

More than a passing trend, this is a look with so many different styles that anyone could pull it off. With each lensless or non-prescription pair, there's an opportunity to make yourself over. One day you can play the geeky librarian and the next you can exude pure sophistication in the office.

Glasses are fashion statements with many different meanings. You can transform your look with a new pair. Before you start trying on different specs, here are some pointers to help you create a head turning look:

1.   Wear A Fresh Pair Daily
You wouldn't wear the same shirt to work every day, would you? So why should it be any different with your glasses? After all, they're as much a part of your outfit as any other item of clothing. It's funny how we change our shoes more often than we vary our glasses, and yet the rimmed accessories people tend to see first. They make the first impression. If you really want to make a statement, you need to mix things up. Nothing says Hello World quite like starting each day with a fresh, new look. One day you could choose blue cat eye frames with sparkling crystals. The next day, pick something purple, lightweight and flexible.

If you're like most people, you probably have only one pair of glasses. With great selection and budget friendly prices, it is easy to have a variety of frames at your disposal. But, don't overwhelm yourself. Shopping for a new look can be intimidating. To start, pick five of the most distinctive frames you can find. These glasses will become conversation starters, not just immobile decorations.

2.   Know Statement Glasses When You See them
You don't want just any glasses. You want statement glasses. You'll know them when you see them. You can't take your eyes off of these glasses. They are so bold people can't help but stare at them. They're going to get you lots of attention, be prepared.

Choosing statement glasses is tricky. I could say things like: follow your gut. Or: use that intuition of yours. But that's not helpful. It's a personal thing. There's no checklist for choosing a pair of statement glasses. As a rule, though, the trends aren't necessarily the statement makers. If you're looking for something different, perhaps try these. You might want a pair with an unusual shape or a unique lens color.

3.   Don't Be Afraid To Go Bold
Bright color is a good way to make a bold statement. If you want to get noticed, a pair of spring green cateye frames can do the trick. With bright color, you don't need to wear much makeup. At the same time, going bold doesn't have to equal bright and neon. Not everyone can pull off that much color.

You can turn just as many heads with a simple frame. Random tortoise shell patterns or lime green aviators will leave an impression. With plenty of different frames to choose from, you're bound to find something that's uniquely you.

If you choose to wear glasses, they shouldn't just sit there. Have fun with your frames, mix-and-match them. After all, glasses are a powerful accessory. It's up to you to get the most out of them. What kind of statement do you want your glasses to make?
Thursday, July, 10 2014 by Matt Souza
There's no escaping World Cup fever when you work in an office like mine. Every four years, our usually quiet working environment erupts into mayhem with the World Cup. For a soccer lover like me, it's a real treat.




It's also about the only time that I don't need to worry about making small talk with my colleagues. When we saw Clint Dempsey score against Ghana, what a great match!

Did you see Dempsey? And what about that Brooks – isn't he something? As thrilling as it was to rehash the match the next day, it left me wanting more. I wanted to be there front and center as the Stars and Stripes did us proud. With no chance of getting on a plane, I needed a plan B.

At first I thought tweeting would help. Cheering along with the rest of the twitterverse, I felt united with my country. I got quite into it, until we lost to Germany. Poof! Just like that, all of the online camraderie vanished. The #WW3 hashtag many of us had been using was no longer trending. I realized I had to move on.

I decided that a new pair of eyeglasses would be my solution. It turned out to be far more effective than seeking out colleagues or hashtags. If you're looking for some World Cup spirit but can't afford the airfare, I highly recommend you do the same. It's the closest you'll get to feeling like "We Are One (Ole Ola)". Don't believe me? Here's why you should treat yourself to a new pair of eyeglasses, in honor of the World Cup:

1. Turn Your Support into an Accessory
Eyeglasses are a great way to show your support for your favorite team! It's a creative alternative to getting dressed up in your team's colors. And let's face it, it will save you the hassle of dyeing your hair. Who says you can't use your glasses as a statement-making accessory?

My advice is to choose your new frames to match the color of the team you support. Supporting the United States, I went with three different frames. I started showing them off three days before a game. The first day, I went red. The next day, I went white. The third day I went blue. By the time I was wearing my blue frames, no one doubted what team I was supporting.

I felt proud strutting my stuff in those colors. There's something very satisfying about turning your support for your favorite team into an accessory.

2. Easier to Enjoy than a Caxirola
At the 2010 World Cup in South Africa, it was the vuvuzela. In 2014, it's the caxirola. This Brazilian percussion instrument had been declared the official noisemaker of this year's World Cup, but it was quickly banned by Brazil's Ministry of Justice. In addition to being distracting during matches, the caxirolas were found to pose a safety risk after fans starting chucking them onto the pitch. You never have to worry about any of that potential danger with eyeglasses.

Your frames can be big, eccentric, and crazy, with no issue! While they may not be noisemakers, you can wear your World Cup Glasses with pride, and not get in trouble with authorities. Take that, caxirola!

3. Great Time for a Check-up
Did you know that you should have your eyes tested every two years? If you're due for a check-up, this is the perfect time. After all, it's that time of year when you want to sit back and enjoy the television without straining your eyes. Who knows, you may find that you truly need a new pair of prescription eyeglasses.

Come Celebrate with Zenni Optical
We invite you to celebrate the World Cup with us! Come browse our diverse selection of affordable frames and find something that's perfect for you. With great prices and an unbeatable selection, you're bound to find the ideal pair to pay tribute to your team.
Monday, July, 7 2014 by Nicole Hyman

As you know, 4th of July is a favorite holiday at Zenni: We love fireworks, parades and spending time with family. The best part, though, is the outdoor cookouts. Chicken, burgers, even tofu tastes better when cooked on a grill. Naturally, you'll want to look your best while hanging out around the grill, so we've selected some frames that are awesome as sunglasses: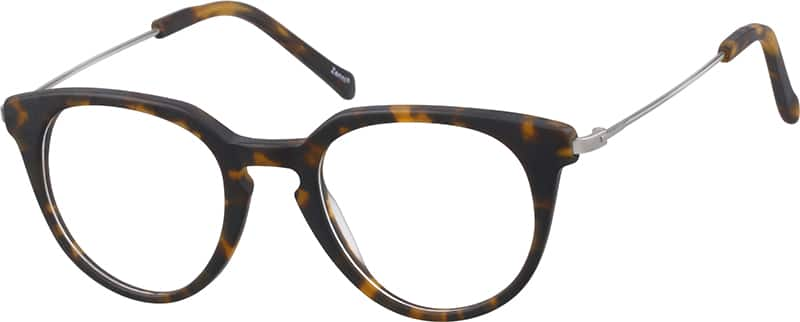 You want a classic look? We have one for you. These full-rim, tortoise shell frames with metal temples give you a serious look while also protecting your eyes against glare. If you are looking to not shock your relatives during a family barbeque, grab these and impress everyone with your maturity.

Another classic look for men, and these are hypoallergenic, even. This means that you probably won't have to worry about these frames triggering a rash, though you'll still need to take your Claritin if being outdoors in the summer gives you the sniffles. But seriously: These are the frames to wear if you want to be taken seriously. With tinted lenses, you'll look like you work for a government agency.





If you are the type of person who oveheats easily, check out these cool blue/green frames, then go find a nice hammock under a shady tree. These frames will look great with just about every skin tone: Tan, pale or somewhere in-between. Classic styling and a solid color also allows you to wear these just about anywhere from the beach to the boardroom.



These tortoiseshell frames and gold temples offer a sleek, sophisticated look for a cookout. Plus, the smaller frames give you sun protection while letting friends and family see more of your beautiful face while catching up over a plate of food.



Hey there, glamorpuss! If you want to attract attention, you could do a lot worse than these rhinestone-studded full rim frames. Pair these with some serious red lipstick or gloss, and you'll be the talk of the cookout. They'll also look great if you decide to hit the bars later in the evening.
Friday, July, 4 2014 by Lainie Petersen