Archive for the 'Eyeglass Fashon' Category
World Cup fans are excited about the semi-finals match between Germany and Argentina! For fun, we decided to have a look at some frames that feature the colors of each team. Enjoy!

Germany
Root for Germany in these red and gold full-rim glasses. The floral detail on the temples gives them a wonderfully feminine look.

Keep it casual with these yellow and red plastic full-rim glasses. I love how the red and yellow come together to look like flames!

Looking for something more formal? These plastic full-rims in red with yellow/gold accents fit the bill nicely. The cat eye style is ultra-feminine and will certainly get you noticed at school, the office and while out with friends!
Argentina



Argentina fans take note: These dreamy blue frames look great against a tan and will put everyone in mind of the beach! A great summer casual look.

Are any of your children Argentina fans? These sporty glasses are great looking and can take the beatings that active kids can give.
Get down to business with these stainless steel full rim glasses. This is a very conservative design, but the subtle blue accent makes these glasses a lot more interesting than if they were just plain silvertone.
Monday, July, 14 2014 by Lainie Petersen

As you know, 4th of July is a favorite holiday at Zenni: We love fireworks, parades and spending time with family. The best part, though, is the outdoor cookouts. Chicken, burgers, even tofu tastes better when cooked on a grill. Naturally, you'll want to look your best while hanging out around the grill, so we've selected some frames that are awesome as sunglasses: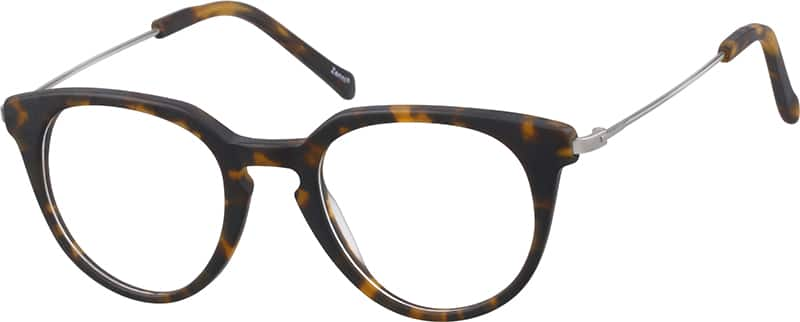 You want a classic look? We have one for you. These full-rim, tortoise shell frames with metal temples give you a serious look while also protecting your eyes against glare. If you are looking to not shock your relatives during a family barbeque, grab these and impress everyone with your maturity.

Another classic look for men, and these are hypoallergenic, even. This means that you probably won't have to worry about these frames triggering a rash, though you'll still need to take your Claritin if being outdoors in the summer gives you the sniffles. But seriously: These are the frames to wear if you want to be taken seriously. With tinted lenses, you'll look like you work for a government agency.





If you are the type of person who oveheats easily, check out these cool blue/green frames, then go find a nice hammock under a shady tree. These frames will look great with just about every skin tone: Tan, pale or somewhere in-between. Classic styling and a solid color also allows you to wear these just about anywhere from the beach to the boardroom.



These tortoiseshell frames and gold temples offer a sleek, sophisticated look for a cookout. Plus, the smaller frames give you sun protection while letting friends and family see more of your beautiful face while catching up over a plate of food.



Hey there, glamorpuss! If you want to attract attention, you could do a lot worse than these rhinestone-studded full rim frames. Pair these with some serious red lipstick or gloss, and you'll be the talk of the cookout. They'll also look great if you decide to hit the bars later in the evening.
Friday, July, 4 2014 by Lainie Petersen
You can imagine how I felt when the optometrist told me I needed glasses. I was thrilled. I'd secretly always wanted a pair. And now, instead of accessorizing with that non-prescription pair I kept in my top drawer of my dresser, I had a reason to wear glasses without feeling like a poseur.


This was the super sassy, new me. And I loved every purple bit of her.

Here's my advice for anyone looking to buy their first pair of glasses.

1. Dress for Your Face
We all have different shaped faces. There are ovals, squares, rounds and even hearts. You need to find a pair that complements your shape. And this can be trickier than it sounds.

Square-shaped faces beware. You want round or oval eyeglasses in bold or dark colors. It's best to stay away from geometric and square shapes as well as light-colored frames. You want eyeglasses that take the emphasis off your strong facial features.

Heart-shaped faces are a bit more challenging because of the broad forehead and small chin. Your best bet is glasses that help create balance. Oval and round shapes as well as light-colored frames are best as they help balance the widths of the face.

Round-shaped faces look good with wide lenses. Look for frames that draw attention to your cheekbones. It would be a pity not to show them off.
Perhaps the luckiest of them all, are the oval-shaped faces which can get away with almost anything. Stick with rectangular and square frames to be on the safe side though.

2. Dress for Comfort
Might seem like an obvious one, but it's something I overlooked when I got glasses. Remember, these are going to be on your face for the long haul. Think long hours at the office. Dinners with family. And everything in between. Ask yourself: do these frames have what it takes to be there for me when I need them most?

Consider them carefully. How do the frames feel on your face? If you feel pinching or discomfort, you can always adjust the nose pads. But bottom line, if they aren't built for comfort, the only place they'll be is in their glasses case.

3. Dress for Every Occasion
When my boss first saw my bright purple glasses, he pulled a face. He was surprised. I'd been at the same company for two years without changing so much as my haircut. I played it safe: mauve blouses, elegant pants and the occasional scarf. These glasses were my attempt at changing all that. I wanted to reinvent myself and change how people saw me. Few of my colleagues had met the fun, outgoing side of me. And I thought these glasses would do the trick.

So did it work? I got my fair share of stares. People I'd passed countless times in the corridors or had seen in the lunch room, complimented me. Some even treated me differently. A colleague I'd said maybe 10 words to, loved my glasses so much that we started having regular lunches together. We've since become good friends. As for my boss, a man with an eye for colorful art, he soon took a liking to my glasses. And I'm happy to report that I now find him much more approachable. But colorful frames may not be suitable for your workplace.

I was lucky with my choice of glasses. Remember that your glasses need to look good in any situation they may find themselves in whether it's a slinky black number or typing away at your daily 9 to 5.

Picking your first pair of glasses doesn't have to be stressful. In fact, I recommend having a little fun with it. Think of it as accessory shopping. After all, with Zenni Optical's affordable prices you can easily purchase two, three, or even four pairs to suit any occasion.
Friday, June, 27 2014 by Nicole Hyman

Spring is in the air, so it's time to lighten things up a bit with pastels, softer fabrics and flirty sandals. We here at Zenni had a look at this season's trends and decided to put together a simple, gorgeous ensemble that's perfect for springtime . . . and all for under $100! Check out what we came up with and let us know what you think in the comments below.



The Frames – Pink Translucent Frames from Zenni




Badly chosen eyewear can ruin your look before you even get started, which is why we began our spring ensemble with these adorable Zennis ($6.95). A lovely pink translucent frame picks up the pink on the dress, harmonizing with the lighter colors of a spring look while also drawing attention to your beautiful eyes.



The Dress – Tribal Print Zip Back Shift Dress from Body Central



The next element of this look is a simple shift dress that offers a study in contrasts: Warm pastels take on new life in a bold Aztec-themed print. The result is Southwest glam that isn't too heavy-handed.

In addition, the shape of this dress makes it an incredibly versatile piece: While the skirt is a little short for work, you can still wear this on your days off with a baby-blue cardigan for shopping and strolling around town. Even better, this Tribal Print Zip Back Shift Dress from Body Central will only set you back $24.98 . . . a serious steal.



The Shoes – Gladiator Sandals from Maurices



These gladiator sandals, only $24.00 from Maurices, rock this look without overwhelming the dress. Pastels can sometimes be tricky to match, so your best bet is either an exact match or a pale/light neutral. These sandals kick things up a notch with gold metallic studs.
Bonus: In addition to being incredibly cute, the flat heel and straps gives the whole outfit a decidedly beach-y look, even if you are strolling down a city street.



The Accessory – Curve Bar Clutch from Dorothy Perkins



Lest you think that this outfit is getting a bit too casual, our stylist comes to the rescue with this adorable, but quite proper, clutch in pale pink with beige trim. At only $27 from Dorothy Perkins, the bag even has a zippered pocket for your wallet (a good thing, considering the money you're going to save on this outfit) and a pouch for your cell.
Thursday, April, 17 2014 by Lainie Petersen
In jazz slang, to say you've "got your glasses on" means you're acting a little snooty.

But we think that expression's jive, man, because we're all about people getting their glasses on. After all, some of the coolest cats who ever blew an axe literally got their glasses on.



Don't have a cow, man. We know Simpsons character Bleeding Gums Murphy wasn't an actual jazz great. But plenty of real-life jazz musicians sported some pretty rad rims.

So in honor of April's designation as Jazz Appreciation Month (with the appropriate acronym JAM), we're taking a look at some of the baddest daddies (and a couple of fine ladies) of jazz who definitely got their glasses on – in a good way.

Composer, lyricist, and ragtime pianist Eubie Blake was one of the fathers of jazz.



Blake and his partner, singer-songwriter Noble Sissle, wrote the 1921 Broadway musical Shuffle Along, one of the first written and directed by African Americans. That show gave the world the standard "I'm Just Wild About Harry." Blake was just wild about horn-rim, wayfarer-style glasses. Check out similar Zenni frame 220421.



Clarinetist and bandleader Benny Goodman's 1938 concert at New York's Carnegie Hall was considered jazz's coming-out party, and as such, one of the most important performances in jazz history.



The concert climaxed with the immortal "Sing, Sing, Sing," featuring Lionel Hampton (left) on vibraphone, Gene Krupa on drums and Harry James (not pictured) on trumpet.



A big part of Goodman's image is his rimless eyeglasses.



Goodman's frame is similar to Zenni's frame 322111, shown with lens shape 232.



If you want to copy Goodman's style, go with lens shape 224.



Thelonious Monk was one of the first modern-jazz, bebop artists.



He was notable for a percussive style of piano improvisation with abrupt starts and stops. Monk first gained attention performing with Charlie "Bird" Parker and Dizzy Gillespie at Minton's Playhouse in Harlem, where he was the house pianist.



Monk's popularity took off when the Thelonious Monk Quartet played the Five Spot Café in New York, in 1957. Along with Monk on piano, the quartet included (from left) John Coltrane on sax, Shadow Wilson on drums, and Ahmed Abdul-Malik on bass.



Whether it's " 'Round Midnight," or any time of the day, Monk looks great in his glasses. You'll look just as cool in Zenni frame 690111.



Or, to get the Monk look in non-prescription sunglasses, go with Zenni frame A10120421.



Ella Fitzgerald was known as both the "First Lady of Song" and the "Queen of Jazz."



She was the first African-American woman to win a Grammy, at the first Grammy Awards ceremony, in 1959. She actually won two Grammys that night, Best Female Vocal Performance for Ella Fitzgerald Sings the Irving Berlin Songbook, and Best Jazz Performance for Ella Fitzgerald Sings the Duke Ellington Songbook.



She went on to win 11 more Grammys. Her live version of "Mack the Knife," recorded in 1960, is one of the landmark jazz performances captured on record.



Although she didn't wear glasses in performance as a young jazz singer, Fitzgerald wore them in later years.



Her oversize, ornamented, full-rim style is similar to these Zenni frames (click on the images to see their specs!):



It's notable that several of these landmark performances are in the late 1950s and early '60s. In jazz, 1959 is considered the art form's peak year, similar to the way film buffs consider 1939 the greatest year in movie history.



You've probably seen those three 1939 movies, which are so famous they need no identification. They are just a few of the many movie masterpieces that year.
Now let's look at some classic jazz albums that were released in 1959:



Of the jazz greats behind these albums, only bandleaders Dave Brubeck and Miles Davis were frequently seen in glasses.



Check out Brubeck (at the piano) with his quartet (from left, alto sax player Paul Desmond, bassist Eugene Wright, and drummer Joe Morello), all of whom are wearing glasses.



We love the Take Five cut "Blue Rondo à la Turk," and the title track, which is so recognizable and popular it could almost serve as jazz's theme song, although some would argue that John Coltrane's version of Rodgers and Hammerstein's "My Favorite Things" deserves that distinction.

As much as we love both recordings, we're going to go with Brubeck, if only because he and his bandmates all wore glasses.

Brubeck's signature frame is not unlike Eubie Blake's wayfarer-style horn-rims, but let's mix it up a bit (you didn't think we were going to say "jazz it up," did you?) with a rich-looking, brown wayfarer-style frame from Zenni, model 820415.



Desmond's glasses are similar to Zenni frame 614212.



Wright is wearing a pair of classic brow line glasses, not unlike Zenni frame 535021.



Morello's glasses, with a straight-line bridge, are similar to Zenni's Christmastime tortoiseshell frame 624725.



Trumpeter Miles Davis's Kind of Blue brought a new form of improvisation to jazz, using the songs' scales rather than chords for his riffs. His 1960 album, Sketches of Spain, is just as revered as Kind of Blue, but we're also extremely fond of a less heralded 1959 album by Davis and Gil Evans, their jazz version of Porgy and Bess, by George Gershwin (music), DuBose Heyward (libretto and lyrics), and Ira Gershwin (lyrics).

When he started wearing glasses, Davis favored oversized frames, like these aviators.



Davis's frame calls and Zenni responds, with similar frame 579721.



When you think of images of one of Davis's modern-jazz forebears, Dizzy Gillespie, you probably think of two balloon-like cheeks rather than two round eyeglass lenses. But in his early years, the man credited by many as the originator of bebop, also known as modern jazz, wore round, full-rim specs that set off his not-yet "moon cheeks".



Pop on similar Zenni frame 6290015, and start blowin'!



If Thenlonious Monk and Miles Davis are bebop, and Benny Goodman is "prebop," then Herbie Hancock could be considered "post bop."



Hancock is a true crossover jazz-fusion artist, bringing synthesizers, funk, soul, and modern classical music to his improvisations. His 2007 tribute album to occasional jazz artist Joni Mitchell, River: The Joni Letters, won two Grammys, for Best Contemporary Jazz Album and Album of the Year.



The full-rim, rectangular metal frames shown in his picture and on the album cover are not unlike Zenni's frame 650312 (in gray) and 650315 (in brown).



Trumpeter Wynton Marsalis is the first jazz artist to win the Pulitzer Prize for music.



A prodigy who was performing in church by age 8, Marsalis won the Pulitzer in 1997 for Blood on the Fields, an oratorio about a couple moving from slavery to freedom.



With his participation in various PBS programs, including Marsalis on Music and Ken Burns's Jazz, his several books on jazz, and his artistic directorship of Jazz at Lincoln Center, Marsalis has become the leading ambassador of jazz.

The full-rim rectangular metal frame he's wearing in his picture is similar to Zenni's frames 552415 (brown) or 552421 (black).



Finally, sultry Canadian singer-pianist Diana Krall (shown with bassist Ben Wolfe) is one of the few ladies of jazz who doesn't mind performing in eyeglasses.



That may be because she is married to Elvis Costello, whose glasses are an indelible part of his appearance.



Krall's tinted full-rim rectangular glasses are similar Zenni's frame 228721.



Costello's are close to Zenni's frame 638821.



Now you've got some crazy chops to break it down and find some gone frames in the mix. And that is all that jazz – in eyeglasses.
Monday, April, 14 2014 by Matthew Surrence