Archive for the 'Eyeglass Fashon' Category

November is Movember, a time to raise awareness of men's health! Here at Zenni, we want to celebrate Movember with two promotions:

Show us your 'stache on Instagram and Twitter with hashtag #zennimo and you can win the grand prize of a $300 Amazon card or one of three $100 Amazon gift cards.
Every time you use the hashtag, we donate $5 to The Movember Foundation. We have a goal of donating $10,000, and we hope you'll help us reach it!

Need some inspiration? Check out these iconic staches:
Tom Selleck as Magnum P.I.

Magnum P.I. not only needed to look cool, he also had to protect his eyes from the sun. These aviators in brown alloy with an amber tint  give you plenty of sun protection while going just so with your Hawaiian shirt.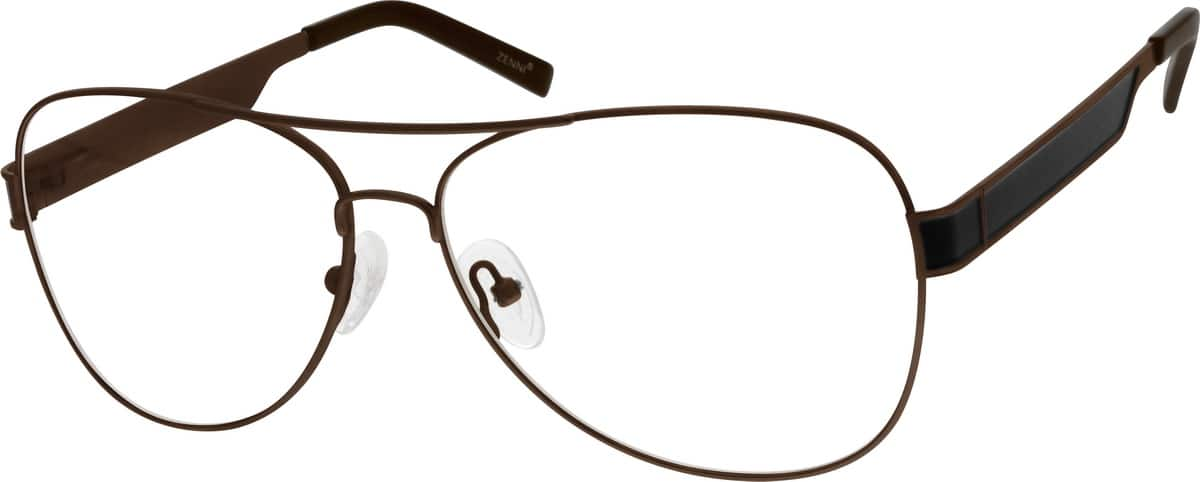 Frame #559615

Anthony Edwards as "Goose" in Top Gun


While Goose came to a sad end in Top Gun, we can take comfort in the fact that his alter ego went on to an illustrious career in emergency medicine. His sunglasses were aviators, naturally, and these silver frames blue lenses will take you from aircraft carrier to medical center (and everywhere else) in style.




Frame #419111

Freddy Mercury


Nobody had pipes like Freddy and nobody has ever captured his incredible style. Here we have a pair of titanium aviators (it seems to be a thing with mustachioed men), but with an extra bar over the nose. Add some blue tinted lenses for a serious rock and roll look.




Frame #217212

Burt Reynolds


Burt Reynolds was mega, mega man in the 70s and nobody wore a stache like him: On the rare occasions when he appeared clean-shaven, something always seemed off. To capture his look, try these black aviators with a yellow tint.




Frame #236025



Friday, October, 31 2014 by Lainie Petersen
October is Breast Cancer Awareness Month and we at Zenni want to do our part to help find a cure. That's why we're promoting Zenni Pink, incredibly cute pink and pink-and-black frames that'll turn heads wherever you go. Even better, we'll donate $1 for every pair we sell through October to either the Susan G. Komen or $1 to the National Breast Cancer Foundation!

Have a look at these awesome Zenni frames:




Frame #107219

First up is this pair of pink wayfarers: Classic styling with silver ornamentation, but the color is decidedly pink. Pair with black or gray clothing for maximum impact.




Frame #107319

This is basically the same pair, except with a larger frame that offers a wee bit more coverage. Try these as sunglasses…and yes, you do need sunglasses in fall and winter. Remember the glare from the snow? Also, these pink glasses frames will look HOT when you're sporting your summer tan.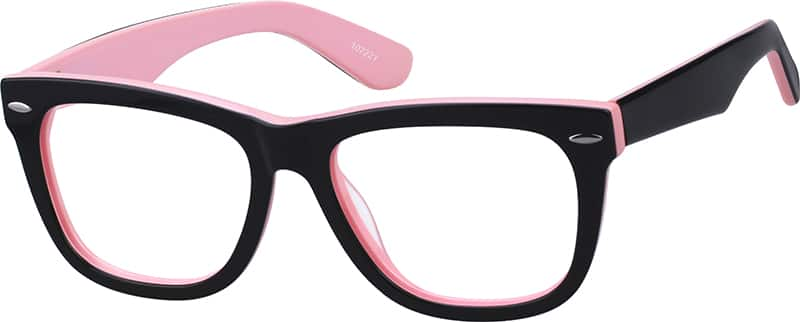 Frame #107221

I confess that these remind me of the new wave fashion so popular back in the 80s: From the front, these look like typical black wayfarers, but they contain a special surprise: They're pink on the inside! Awesome to wear anytime, but will look particularly great for a night of clubbing.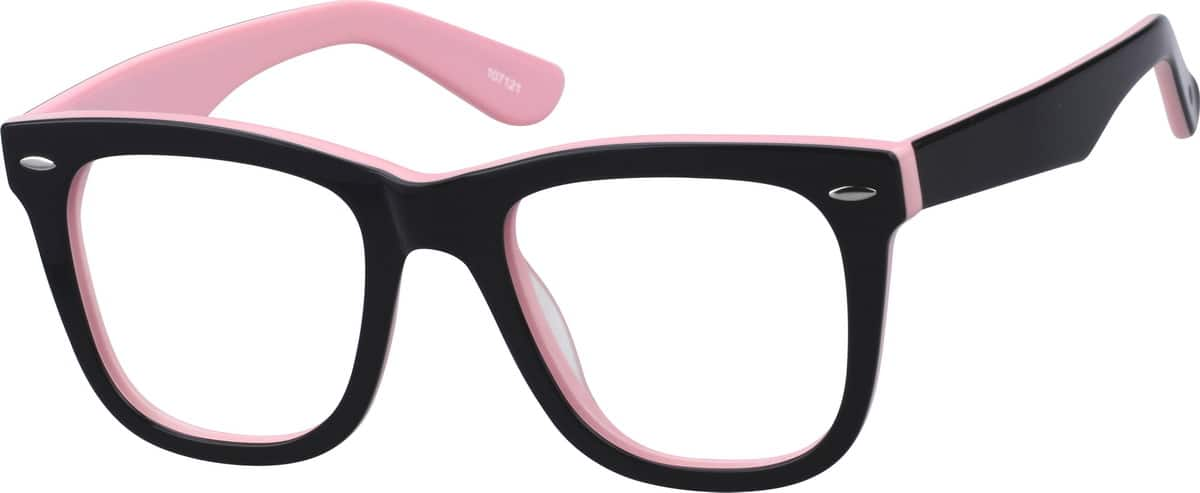 Frame #107121

As with the pink frames above, we also offer this pink-and-black look in a larger size. These offer a bit more coverage, which some people prefer. These also look incredibly cool as sunglasses.

Looking for other styles? Zenni offers a full range of frames in many different colors, including pink! Check out our site to see all that we have to offer and show your concern for breast cancer research by going pink this October.


Friday, October, 10 2014 by Lainie Petersen
Your glasses aren't just an attractive fashion accessory that also enables you to see. Your eyeglasses frame can be a blank canvas on which you can give your inner Van Gogh free rein. Inspired by the World Maker Faire, we start with a nice, wide, solid color frame with thick temple arms. That's the clean slate on which your imagination can run as far as your frame will carry it.




Custom decorating your glasses is easy! Just take a permanent marker in a contrasting color to your frame, and use it to put monochromatic or multicolor polka dots on your glasses.



Here's the finished product of how our glasses came out. Let us know what you think, and we'd also love to hear your own DIY ideas in the comments below!


Bonus: Here are some other eyeglasses frames that would look great with polka dots!



Frame #337930




Frame #287630




Frame #665130



Frame #300730




Frame #287830




Frame #200930

Finally, if you are not DYI inclined, we carry frames that come with polka dots, like these:



Frame #631118



Wednesday, October, 1 2014 by Matt Souza


Here at Zenni we're all about the DIY spirit, as you can probably tell from infographics like this one, and there are few events in the world that capture the do-it-yourself attitude quite like the famous World Maker Faire in New York.

Labeled as "the greatest show and tell on Earth," the Maker Faire is a hodgepodge of talented "makers" putting their wares on display and sharing knowledge and innovation. Comprised of techies, artists, engineers and craftsmen, the participants at the Maker Faire are truly an inspiring bunch.

In honor of them and this amazing event, which takes place this weekend, we decided to put together a blog post that features "makers" of a different sort. We searched the web and found some unique blogger tutorials for making your own glasses cases and they were so good that we had to share!

Check out the finished products below and be sure to click through to the full tutorials on each site.

Leather Sunglasses Holder from A Beautiful Mess


This tutorial is super easy to follow and the finished product looks really professional. We love the added clasp to keep your glasses in and the black leather glasses on front are a great touch. Read the whole thing here.

Simple Fabric Cases from Poppytalk


These are so fun and easy to make. All you need is calico or plain fabric, fabric markers, scissors and a needle with thread! For more, visit the full tutorial.

Hand Sewn Felt Cases from Design Sponge


Taken from one of crafter Kata Golda's book, these lovely DIY glasses cases are so artistic! Click here to learn how to make them yourself.

If all else fails…


We understand that not everyone is the DIY type. Sometimes you just want have someone else make it for you! If this is the case (pun intended!) with you, don't worry. You can always browse our selection of eyeglass cases and find the perfect one to fit your personality.
Saturday, September, 20 2014 by Matt Souza
We love football here at Zenni and are super excited about the games this weekend. We've even selected some frames that announce your team spirit and complement your logo wear. Bonus: Several frames are made of tough, flexible plastic, making them ideal for rowdy celebrations and even a few hours of playing football with your friends.

San Francisco vs. Dallas





49′ers fans can paint the town red with these frames: They're sure to get you noticed at the game and at the bars afterward. They are also made of flexible plastic, which means that you aren't as likely to break them if you get overenthusiastic at the game.





Whether you are watching the Cowboys play or engaging in some casual team sports yourself, these silver and gray frames will not only help you see, but also keep you comfortable: They are made from hypoallergenic acetate, so they aren't so likely to irritate your skin, even if you work up a sweat!

Denver vs. Indianapolis





Broncos fan? Check out these orange-trimmed frames: Pair them with a blue and white shirt and you'll be all set for the season.





Colts fans can enthusiastically enjoy the game while not worrying about breaking their frames: These blue frames are made from flexible plastic, so feel free to let loose at the game or tailgate party.

 Atlanta vs. New Orleans





If you love the Falcons, try wearing a red shirt and these black and silver Zennis. We particularly love the cut-out temples that seriously update your style without going overboard.





If you are a Saints fan, we've got a pair of black frames that may be just your style. Not only do they go with just about everything, but the rectangle frames have a sleek, sporty look. Get them with tinted lenses if you enjoy going out to see the games live!

Finally, whether you're at the game, at the bar, or at home, make sure to take a picture of yourself and use the #ZenniFashion hashtag for a chance to win a $300 Nordstrom gift card!


Friday, September, 5 2014 by Lainie Petersen