Archive for the 'Eyeglass Fashon' Category
OK, we get that you may not be into ugly Christmas sweaters. But if you'd like to contribute some general holiday cheer to the world, while avoiding potential embarrassment, here are some frames to consider from our holiday collection: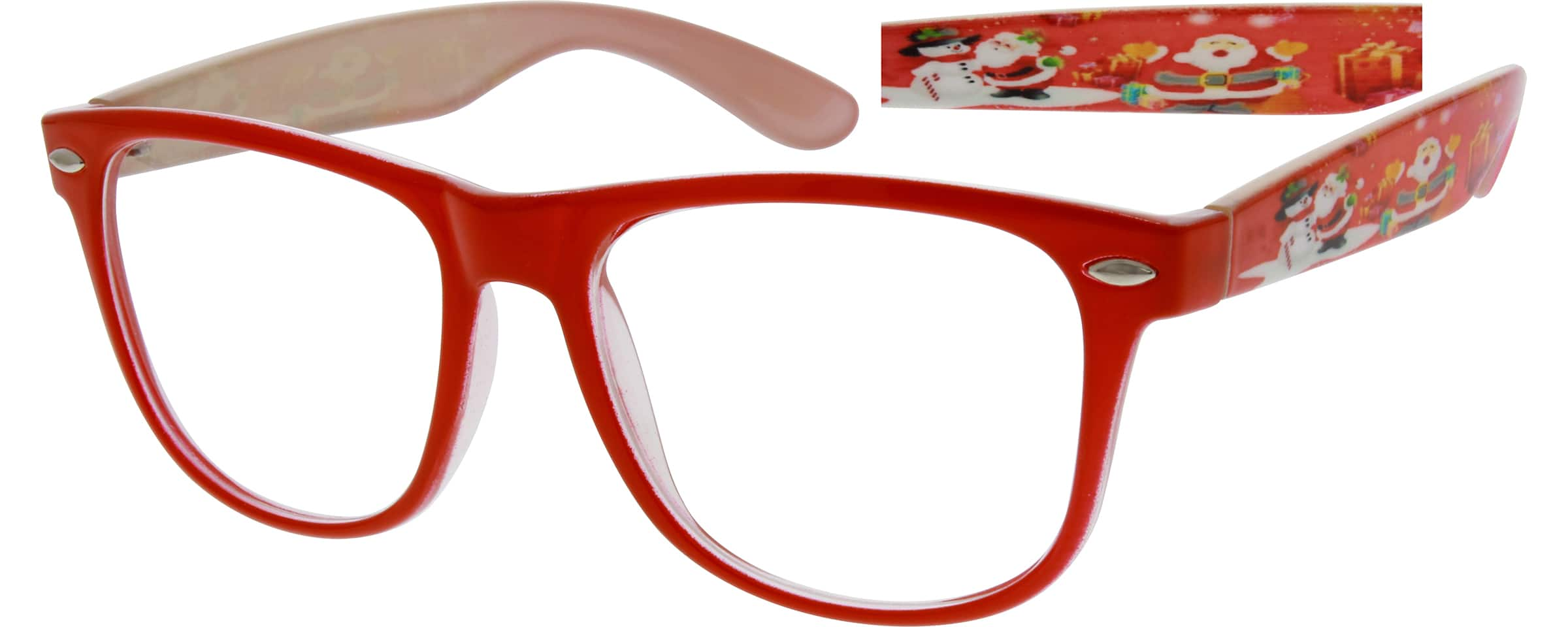 Frame #284718

The bright red color of these wayfarers is quite Christmas-y on its own, but wait…there's more! The temples incorporate a wonderful holiday motif of Santas, gifts and snowmen.




Frame #184424

If you look hard in the holiday candy section of most drug and grocery stores, you'll find an old-fashioned treat called ribbon candy. This is a hard candy in multiple colors that has been pulled thin and bent into what looks like ribbon art. These stripy frames remind me of the thin, elegant lines of color created by the pulling process. Subtle, beautiful but also very much a celebration of the holidays.




Frame #624617

As far as subtlety goes, this frame ranks somewhere between the first two on our list. The fine-line drawings of colorful Christmas symbols on black is probably safe for work, but also cheerful enough for family gatherings.




Frame #738218

If you are all about the luxe life, check out these frames. Plum frames accented with a carved design and a few rhinestones makes for a sophisticated look at evening parties.


Friday, December, 19 2014 by Lainie Petersen
1. Elf Christmas Sweater
UglyChristmasSweater.com – $51.99



If you can't dress up as Santa this Christmas, try this elf sweater paired with simple black frames adorned with cunning silver stars. Aren't you precious?



Frame #220421
2. Quirky, Yet Conservative
Croft and Barrow – $30



OK, a part of me is really reluctant to mock this sweater, particularly since it is in such lovely, muted colors. Still, it is a Christmas sweater, which is always problematic. Try pairing these lovely frosted blue frames below with this sweater and make a statement at your next holiday party.




Frame #270516

3. Get Your Fat Pants Ready!
Ugly Christmas Sweater Party – $34.50


My main objection to this sweatshirt is that turkey isn't a terribly caloric meat, making the statement about "fat pants" untruthful. The problem is the side dishes, Christmas candy and sweet booze that we all love to consume this time of year. Still, our lovely tortoiseshell rectangular frames nicely pick up the color of an expertly roasted holiday bird.



Frame #293125

4. The Other Ugly Christmas Pullover
The Sweater Store – $35



This sweater took me back to the early 80s, when MTV played music and we got to play around with a LOT of bright colors. Pair this sweater with some denim jeggings and these purple frames for a fun party look!



Frame #229317

5. The Sporty Look (available for all NFL teams!)
Clark Toys – $69.99



Sports fan? Show your team spirit with this sweater. Pair with some black wayfarers with blue accents and you'll be looking good this football season if you're rocking this Chargers sweatshirt.



Frame #244621

6. The Adult Onesie
Tipsy Elves – $79.95



The time-honored Christmas adult onesie ensures that your 2-year old nephew won't get all the attention this year at your family's holiday cabin. Pair them with these sturdy black frames that won't fall off your face no matter how many arguments you and your sister get into.



Frame #234521

7.  The Sasquatch
Middle of Beyond – $79.99



Like Santa, Bigfoot is a mythical creature. I can't think of any other parallels at this time, but I'm sure that contrarians will take great joy in wearing this Sasquatch Christmas Sweater along with these tortoiseshell frames. Deck the halls, everyone!




Frame #273425
8. The Christmaster
Ugly Sweater Store – $110



Why settle for a mere sweater when you can have a whole Christmas suit! Liven up your family parties with this Christmas suit paired with the nerd-licious black wayfarers below. Try wrapping the bridge with some green duct-tape for the full effect.




Frame #612921


Saturday, December, 6 2014 by Lainie Petersen

November is Movember, a time to raise awareness of men's health! Here at Zenni, we want to celebrate Movember with two promotions:

Show us your 'stache on Instagram and Twitter with hashtag #zennimo and you can win the grand prize of a $300 Amazon card or one of three $100 Amazon gift cards.
Every time you use the hashtag, we donate $5 to The Movember Foundation. We have a goal of donating $10,000, and we hope you'll help us reach it!

Need some inspiration? Check out these iconic staches:
Tom Selleck as Magnum P.I.

Magnum P.I. not only needed to look cool, he also had to protect his eyes from the sun. These aviators in brown alloy with an amber tint  give you plenty of sun protection while going just so with your Hawaiian shirt.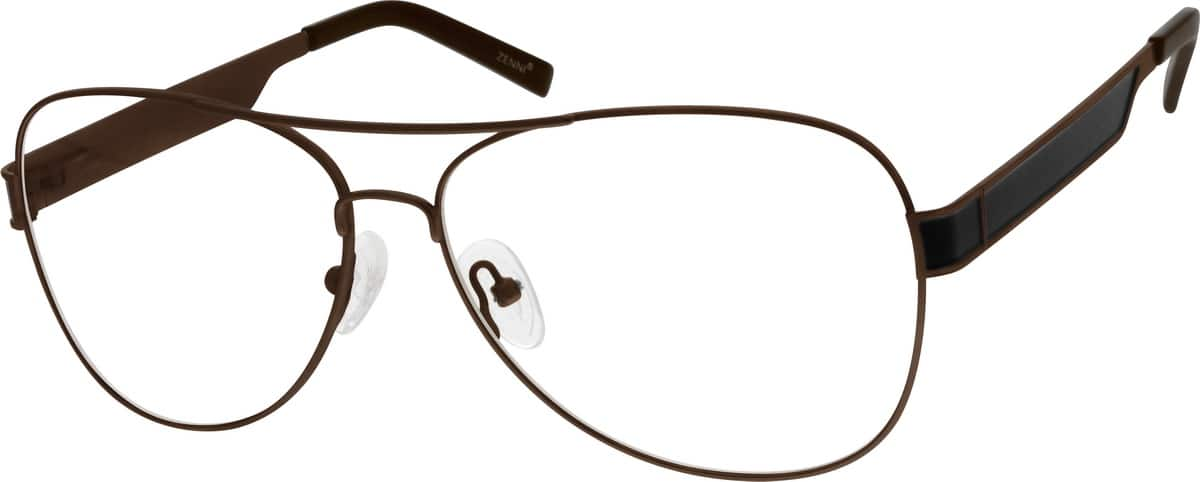 Frame #559615

Anthony Edwards as "Goose" in Top Gun


While Goose came to a sad end in Top Gun, we can take comfort in the fact that his alter ego went on to an illustrious career in emergency medicine. His sunglasses were aviators, naturally, and these silver frames blue lenses will take you from aircraft carrier to medical center (and everywhere else) in style.




Frame #419111

Freddy Mercury


Nobody had pipes like Freddy and nobody has ever captured his incredible style. Here we have a pair of titanium aviators (it seems to be a thing with mustachioed men), but with an extra bar over the nose. Add some blue tinted lenses for a serious rock and roll look.




Frame #217212

Burt Reynolds


Burt Reynolds was mega, mega man in the 70s and nobody wore a stache like him: On the rare occasions when he appeared clean-shaven, something always seemed off. To capture his look, try these black aviators with a yellow tint.




Frame #236025



Friday, October, 31 2014 by Lainie Petersen
October is Breast Cancer Awareness Month and we at Zenni want to do our part to help find a cure. That's why we're promoting Zenni Pink, incredibly cute pink and pink-and-black frames that'll turn heads wherever you go. Even better, we'll donate $1 for every pair we sell through October to either the Susan G. Komen or $1 to the National Breast Cancer Foundation!

Have a look at these awesome Zenni frames:




Frame #107219

First up is this pair of pink wayfarers: Classic styling with silver ornamentation, but the color is decidedly pink. Pair with black or gray clothing for maximum impact.




Frame #107319

This is basically the same pair, except with a larger frame that offers a wee bit more coverage. Try these as sunglasses…and yes, you do need sunglasses in fall and winter. Remember the glare from the snow? Also, these pink glasses frames will look HOT when you're sporting your summer tan.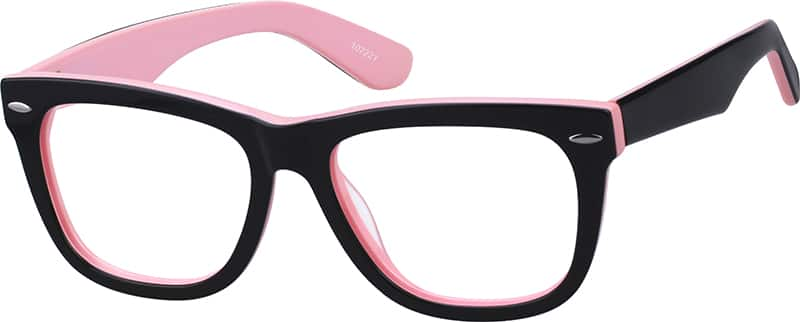 Frame #107221

I confess that these remind me of the new wave fashion so popular back in the 80s: From the front, these look like typical black wayfarers, but they contain a special surprise: They're pink on the inside! Awesome to wear anytime, but will look particularly great for a night of clubbing.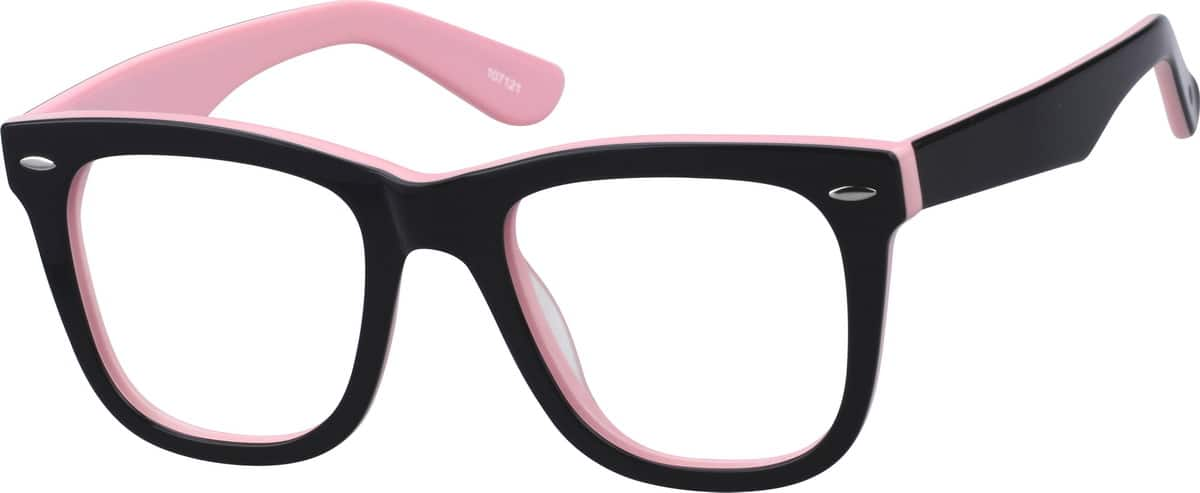 Frame #107121

As with the pink frames above, we also offer this pink-and-black look in a larger size. These offer a bit more coverage, which some people prefer. These also look incredibly cool as sunglasses.

Looking for other styles? Zenni offers a full range of frames in many different colors, including pink! Check out our site to see all that we have to offer and show your concern for breast cancer research by going pink this October.


Friday, October, 10 2014 by Lainie Petersen
Your glasses aren't just an attractive fashion accessory that also enables you to see. Your eyeglasses frame can be a blank canvas on which you can give your inner Van Gogh free rein. Inspired by the World Maker Faire, we start with a nice, wide, solid color frame with thick temple arms. That's the clean slate on which your imagination can run as far as your frame will carry it.




Custom decorating your glasses is easy! Just take a permanent marker in a contrasting color to your frame, and use it to put monochromatic or multicolor polka dots on your glasses.



Here's the finished product of how our glasses came out. Let us know what you think, and we'd also love to hear your own DIY ideas in the comments below!


Bonus: Here are some other eyeglasses frames that would look great with polka dots!



Frame #337930




Frame #287630




Frame #665130



Frame #300730




Frame #287830




Frame #200930

Finally, if you are not DYI inclined, we carry frames that come with polka dots, like these:



Frame #631118



Wednesday, October, 1 2014 by Matt Souza