Archive for the 'Eyeglass Fashon' Category
We love football here at Zenni and are super excited about the games this weekend. We've even selected some frames that announce your team spirit and complement your logo wear. Bonus: Several frames are made of tough, flexible plastic, making them ideal for rowdy celebrations and even a few hours of playing football with your friends.

San Francisco vs. Dallas





49′ers fans can paint the town red with these frames: They're sure to get you noticed at the game and at the bars afterward. They are also made of flexible plastic, which means that you aren't as likely to break them if you get overenthusiastic at the game.





Whether you are watching the Cowboys play or engaging in some casual team sports yourself, these silver and gray frames will not only help you see, but also keep you comfortable: They are made from hypoallergenic acetate, so they aren't so likely to irritate your skin, even if you work up a sweat!

Denver vs. Indianapolis





Broncos fan? Check out these orange-trimmed frames: Pair them with a blue and white shirt and you'll be all set for the season.





Colts fans can enthusiastically enjoy the game while not worrying about breaking their frames: These blue frames are made from flexible plastic, so feel free to let loose at the game or tailgate party.

 Atlanta vs. New Orleans





If you love the Falcons, try wearing a red shirt and these black and silver Zennis. We particularly love the cut-out temples that seriously update your style without going overboard.





If you are a Saints fan, we've got a pair of black frames that may be just your style. Not only do they go with just about everything, but the rectangle frames have a sleek, sporty look. Get them with tinted lenses if you enjoy going out to see the games live!

Finally, whether you're at the game, at the bar, or at home, make sure to take a picture of yourself and use the #ZenniFashion hashtag for a chance to win a $300 Nordstrom gift card!


Friday, September, 5 2014 by Lainie Petersen
TV has the Emmys. We have the Zennis!
We're presenting our 2014 Zennis to the TV stars who rocked their glasses the best at Monday's Emmy Awards ceremony, as well as at the Creative Arts Emmys held one day earlier.
The first Zenni goes to Jim Rash (shown with Community co-star Joel McHale), who looks great in his black horn rims, which was the most popular style of the stars.
It's not unlike Zenni frame 635521:
In the variations-on-the-theme category, Al Roker gets the Zenni Award for his beautiful glasses featuring tortoiseshell front rims with solid brown ornamented temple arms. He's shown here with Sarah Silverman, who won a writing Emmy for her variety special Sarah Silverman: We Are Miracles.
Silverman made headlines for claiming to have a pot-vaporizing pen with her, so maybe that's why it looks like she's got the munchies for Roker's glasses.
If she was still hungry after devouring those, she could feast on a similar Zenni frame, 785725:
Stephen Colbert skipped his typical rimless glasses …
… choosing instead to go with the flow, in distinguished looking full-rim ombre glasses, with a black top, tortoiseshell bottom, and keyhole bridge.



Check out Zenni's ombre tortoiseshell frame 120625:




Maybe Colbert should have stuck to his rimless glasses, or at least skipped the routine about his imaginary friend, which got no laughs and must have had some people wondering if he is the right choice to replace glasses-wearer David Letterman.

All's right with the world in this shot, with both Colbert and Letterman in rimless glasses.


Either of them – and you! – would look great in Zenni frame 134711 (shown here with lens shape 238):

Host Seth Meyers had some fun donning rimless sunglasses …


… for a play on words involving the last names of two presenters, Debra Messing and Jim Parsons, calling them "Messing Parsons," and invoking CSI star David Caruso.




Give that host a Zenni! Perhaps Zenni frame 164714 (shown with lens shape 353), with an 80 percent amber or gray tint:

Maybe the key to killing at the Emmys is sticking to your usual eyeglasses.
Key and Peele were funnier than Colbert, with Jordan Peele rocking his familiar black front, tan temple arm glasses.


He gets the Zenni for looking consistently awesome in his glasses, and you can, too, in Zenni frame 185321:
Aside from black horn rims, another super trendy eyeglasses style, translucent wayfarers, batted .500 when it came to winning Emmys. (Everybody wearing cool glasses won Zennis!)
Fred Armisen of Portlandia …
… lost the best supporting actor award in a comedy series Emmy to Modern Family star Ty Burrell, in wayfarer-style translucents.
You'll look just as awesome in Zenni's translucent frame 307223.
Jon Voight of Ray Donovan was elegant in a white scarf and rectangular half-rims.


Zenni frame 777515 is just as cool, if not maybe a little cooler:

Don Was, who led the '80s band Was (Not Was), won for music direction for The Beatles: The Night That Changed America. He gets the Zenni for best blast-from-the-past, in his throwback round, silver-rimmed sunglasses.
Here's his award, Zenni frame A8450021, a pair of round, non-prescription sunglasses:
Unfortunately (if you like seeing people in glasses, like we do) most of the female presenters and winners skipped eyewear. But Kathy Bates, who won best supporting actress in a miniseries for American Horror Story: Coven, gets the Zenni for rocking her black oval cat-eye glasses.
Here's her Zenni Award – frame 628221:
Congratulations to all the Emmy and Zenni winners!
Tuesday, August, 26 2014 by Matthew Surrence
World Cup fans are excited about the semi-finals match between Germany and Argentina! For fun, we decided to have a look at some frames that feature the colors of each team. Enjoy!

Germany
Root for Germany in these red and gold full-rim glasses. The floral detail on the temples gives them a wonderfully feminine look.

Keep it casual with these yellow and red plastic full-rim glasses. I love how the red and yellow come together to look like flames!

Looking for something more formal? These plastic full-rims in red with yellow/gold accents fit the bill nicely. The cat eye style is ultra-feminine and will certainly get you noticed at school, the office and while out with friends!
Argentina



Argentina fans take note: These dreamy blue frames look great against a tan and will put everyone in mind of the beach! A great summer casual look.

Are any of your children Argentina fans? These sporty glasses are great looking and can take the beatings that active kids can give.
Get down to business with these stainless steel full rim glasses. This is a very conservative design, but the subtle blue accent makes these glasses a lot more interesting than if they were just plain silvertone.
Monday, July, 14 2014 by Lainie Petersen

As you know, 4th of July is a favorite holiday at Zenni: We love fireworks, parades and spending time with family. The best part, though, is the outdoor cookouts. Chicken, burgers, even tofu tastes better when cooked on a grill. Naturally, you'll want to look your best while hanging out around the grill, so we've selected some frames that are awesome as sunglasses: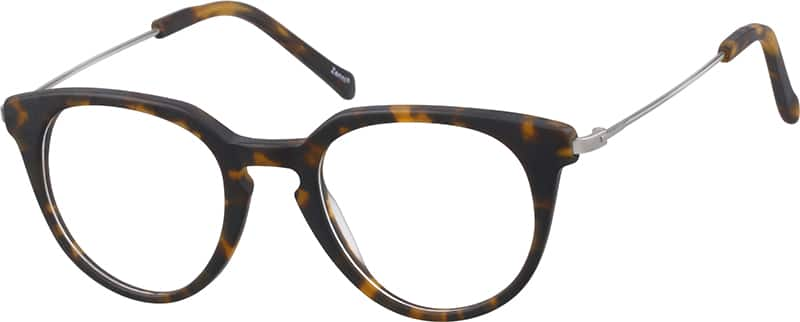 You want a classic look? We have one for you. These full-rim, tortoise shell frames with metal temples give you a serious look while also protecting your eyes against glare. If you are looking to not shock your relatives during a family barbeque, grab these and impress everyone with your maturity.

Another classic look for men, and these are hypoallergenic, even. This means that you probably won't have to worry about these frames triggering a rash, though you'll still need to take your Claritin if being outdoors in the summer gives you the sniffles. But seriously: These are the frames to wear if you want to be taken seriously. With tinted lenses, you'll look like you work for a government agency.





If you are the type of person who oveheats easily, check out these cool blue/green frames, then go find a nice hammock under a shady tree. These frames will look great with just about every skin tone: Tan, pale or somewhere in-between. Classic styling and a solid color also allows you to wear these just about anywhere from the beach to the boardroom.



These tortoiseshell frames and gold temples offer a sleek, sophisticated look for a cookout. Plus, the smaller frames give you sun protection while letting friends and family see more of your beautiful face while catching up over a plate of food.



Hey there, glamorpuss! If you want to attract attention, you could do a lot worse than these rhinestone-studded full rim frames. Pair these with some serious red lipstick or gloss, and you'll be the talk of the cookout. They'll also look great if you decide to hit the bars later in the evening.
Friday, July, 4 2014 by Lainie Petersen
You can imagine how I felt when the optometrist told me I needed glasses. I was thrilled. I'd secretly always wanted a pair. And now, instead of accessorizing with that non-prescription pair I kept in my top drawer of my dresser, I had a reason to wear glasses without feeling like a poseur.


This was the super sassy, new me. And I loved every purple bit of her.

Here's my advice for anyone looking to buy their first pair of glasses.

1. Dress for Your Face
We all have different shaped faces. There are ovals, squares, rounds and even hearts. You need to find a pair that complements your shape. And this can be trickier than it sounds.

Square-shaped faces beware. You want round or oval eyeglasses in bold or dark colors. It's best to stay away from geometric and square shapes as well as light-colored frames. You want eyeglasses that take the emphasis off your strong facial features.

Heart-shaped faces are a bit more challenging because of the broad forehead and small chin. Your best bet is glasses that help create balance. Oval and round shapes as well as light-colored frames are best as they help balance the widths of the face.

Round-shaped faces look good with wide lenses. Look for frames that draw attention to your cheekbones. It would be a pity not to show them off.
Perhaps the luckiest of them all, are the oval-shaped faces which can get away with almost anything. Stick with rectangular and square frames to be on the safe side though.

2. Dress for Comfort
Might seem like an obvious one, but it's something I overlooked when I got glasses. Remember, these are going to be on your face for the long haul. Think long hours at the office. Dinners with family. And everything in between. Ask yourself: do these frames have what it takes to be there for me when I need them most?

Consider them carefully. How do the frames feel on your face? If you feel pinching or discomfort, you can always adjust the nose pads. But bottom line, if they aren't built for comfort, the only place they'll be is in their glasses case.

3. Dress for Every Occasion
When my boss first saw my bright purple glasses, he pulled a face. He was surprised. I'd been at the same company for two years without changing so much as my haircut. I played it safe: mauve blouses, elegant pants and the occasional scarf. These glasses were my attempt at changing all that. I wanted to reinvent myself and change how people saw me. Few of my colleagues had met the fun, outgoing side of me. And I thought these glasses would do the trick.

So did it work? I got my fair share of stares. People I'd passed countless times in the corridors or had seen in the lunch room, complimented me. Some even treated me differently. A colleague I'd said maybe 10 words to, loved my glasses so much that we started having regular lunches together. We've since become good friends. As for my boss, a man with an eye for colorful art, he soon took a liking to my glasses. And I'm happy to report that I now find him much more approachable. But colorful frames may not be suitable for your workplace.

I was lucky with my choice of glasses. Remember that your glasses need to look good in any situation they may find themselves in whether it's a slinky black number or typing away at your daily 9 to 5.

Picking your first pair of glasses doesn't have to be stressful. In fact, I recommend having a little fun with it. Think of it as accessory shopping. After all, with Zenni Optical's affordable prices you can easily purchase two, three, or even four pairs to suit any occasion.
Friday, June, 27 2014 by Nicole Hyman