Archive for the 'Fashionista' Category
We love football here at Zenni and are super excited about the games this weekend. We've even selected some frames that announce your team spirit and complement your logo wear. Bonus: Several frames are made of tough, flexible plastic, making them ideal for rowdy celebrations and even a few hours of playing football with your friends.

San Francisco vs. Dallas





49′ers fans can paint the town red with these frames: They're sure to get you noticed at the game and at the bars afterward. They are also made of flexible plastic, which means that you aren't as likely to break them if you get overenthusiastic at the game.





Whether you are watching the Cowboys play or engaging in some casual team sports yourself, these silver and gray frames will not only help you see, but also keep you comfortable: They are made from hypoallergenic acetate, so they aren't so likely to irritate your skin, even if you work up a sweat!

Denver vs. Indianapolis





Broncos fan? Check out these orange-trimmed frames: Pair them with a blue and white shirt and you'll be all set for the season.





Colts fans can enthusiastically enjoy the game while not worrying about breaking their frames: These blue frames are made from flexible plastic, so feel free to let loose at the game or tailgate party.

 Atlanta vs. New Orleans





If you love the Falcons, try wearing a red shirt and these black and silver Zennis. We particularly love the cut-out temples that seriously update your style without going overboard.





If you are a Saints fan, we've got a pair of black frames that may be just your style. Not only do they go with just about everything, but the rectangle frames have a sleek, sporty look. Get them with tinted lenses if you enjoy going out to see the games live!

Finally, whether you're at the game, at the bar, or at home, make sure to take a picture of yourself and use the #ZenniFashion hashtag for a chance to win a $300 Nordstrom gift card!


Friday, September, 5 2014 by Lainie Petersen
Frame number: #629015
Makeup artist Joel King shares tips to help you create your perfect put-together look!
Photographer: Aneta Cherykova, Model: Alena Pavachka

Don't let your glasses come between you and your beauty.

No matter what type of eyeglasses you wear – oversized translucent wayfarers, tortoiseshell browlines, or jeweled cat-eyes – your makeup and your glasses should have a friendly conversation, not an argument.

So how do you get your makeup and glasses to complement each other and let the most beautiful you shine through?

To get the answers, we asked San Francisco Bay Area makeup artist Joel King for some tips to let your makeup and eyeglasses come together to create your perfect put-together look.

Joel took us through the whole process, beginning with the first step, applying the foundation, and ending with the last, putting on your eyeglasses.

Foundation

In areas where foundation has a tendency to settle or build up, such as the bridge of the nose, primer could be used instead. It blurs flaws without the heaviness of foundation.




Under-eye concealer

Next comes the areas under and around the eyes.

Lenses can magnify and bring attention to under-eye darkness. Use a yellow-based liquid concealer under your eyes to neutralize that.

"Some women mistakenly use a concealer that's lighter than their skin tone," Joel points out, which can give your eyes the infamous "deer in the headlights" effect.

To avoid that, use concealer that matches your skin tone.




Eyebrows

Even though you're wearing eyeglasses, don't neglect to groom your eyebrows.

Your eyebrows give your face definition. Shape them in a way that complements your face.




Eyelashes

Curling your eyelashes really opens up your eyes! If you're wearing a heavy frame, it helps to draw attention to the eyes and makes you look more awake.




If you're wearing false eyelashes, tailor your eyelashes to the glasses. You could take one eyelash out of a pair, cut it in half, and just use one half of one lash on the outer corner of each eye. That prevents your lashes from fluttering against your lenses.

Here's a special eyelash tip for women wearing cat-eye glasses:

Put individual eyelashes on the outer corner of the eye, at an angle, in the direction the cat-eye goes.




Eye shadow

Coordinate your eye shadow to complement your eye color, instead of matching it directly with your frame, which can be overpowering. For blue eyes, try champagne or bronze shadows. "Brown and green eyes look great with plums," Joel says.

If your prescription is magnifying, deeper shades of eye shadow can help to counter the effect, as dark colors recede.

But if you have small or deep-set eyes, try a lighter color on the lids. Then pat a matte white shadow in the inner corner of the eye, between the tear duct and the bridge of the nose, to provide a bit of openness to the area.

Smoky eyes can look great with wide, light colored, or clear frames.

Instead of black shadow, try smudging a mauve or taupe shade all around the eyes. Blend well with a clean brush, and follow with a generous amount of mascara.


Frame number: #662817

Eyeliner

Use your eyeliner to mirror or reflect the frame shape. If you have a thick frame, mirror that in the line of the eyeliner. If you have a thin frame, do a thinner line. The amount of eyeliner you use would depend on the occasion.

If you're going to the office, you probably wouldn't want to wear full eyeliner all the way around your eye, unless that's the look you're going for – a smoky eye, or something a little edgy.

In general, for an everyday look, keep it to the upper lid.

In addition, a flesh-toned waterproof pencil on the lower eye line – the "waterline" – really helps open up the eye.




Apply the mascara at the roots of the eyelashes and really work it into the roots, as opposed to the tips.

"If you focus on the tips, it can smudge on your lenses or on your upper eye," Joel says. "It's important to apply mascara to the root and then wiggle it through the lashes and up and out. That will negate that problem."


Frame number: #628534

Blush

If your frame is rimless, use a "light hand" with blush. However, with a heavy black frame, a little bit more color in your cheeks can bring things forward to pop a little more.

You don't want a cool-toned blush with a warm-toned frame. If your frame is orange, don't wear a light-pink blush. "A coral blush could look really nice with a turquoise frame, because they're complementary colors," Joel says.


Frame number: #630831

Lipstick

A lot of popular eyeglasses frames are multicolor, like tortoiseshell. For multicolor glasses, leave most of the face fairly simple and nude, and concentrate on a bright lip instead of heavy eye makeup.

Blue-based red or pink lipsticks are best for women wearing glasses, because they bring out the white in your teeth and your eyes.


Frame number: #626325

Now let's take it a little deeper, with individualized makeup tips for each popular style of glasses.

Cat-eye

Mirror the shape of the cat-eye with the eyeliner, going up and out. Keep it on the top lid only.

If you're wearing cat-eye glasses, and you're also wearing a nude color lip, bring out your cheeks a little more. Maybe wear a coral or pink blush. Conversely, if you're wearing a bright red lip, scale back your cheek. Don't wear blush.


Frame number: #626325

Tortoiseshell

Tortoiseshell looks great on everybody. There's so much going on with the tortoiseshell, you don't have to do a lot with the eyes. Instead, direct people's attention to your lips, maybe with an orange-based red lipstick, which would look great with tortoiseshell.

Wayfarer

Since women like to wear wayfarer styles in black, bold colors, or even translucent pastels, you should adjust the blush according to the frame color.

"If it's a translucent frame, I would scale back," Joel advises. "With a solid, bold color, I would bump up the blush a little bit, to even out the tone."


Frame number: #270516

As far as eye makeup for wayfarers, just mascara looks great with that. Not a lot of eye shadow, just mascara on the top and bottom lashes, and a bold lip color.

"That always looks great with wayfarer-style glasses," Joel says.


Frame number: #237430

Browline, a.k.a. Clubmaster

Bump up the blush, and scale back on most of the rest of the colors on the face.

"That will still draw attention to the top half of your face and eyes, without making it too much," Joel says.


Frame number: #631817 (similar to #304121)

Delicate, full-rim, filigreed oval

With any frame that is lightweight, you want to bring definition back to the eye. Smudge a black liner into the root of your lashes and focus on darkening the eye a little bit, so your eye area doesn't look washed out.

Specific tips for ladies who wear bifocals or progressives:

"One of the first things you lose as you age is definition in the eye area," Joel points out. "Your eyebrows and eyelashes thin. You would want to bring back definition a little more than a younger person would, especially if the frame is a light color."

Half-rim

Definition on the bottom half of the eye would be good. Put mascara on the bottom lashes, and maybe some eyeliner underneath the bottom lid. That would balance that look.

Rimless

Make sure you groom and define your eyebrows, so you have something that frames your face.


Frame number: #308421

Different skin and hair colors

We asked Joel about specific tips for African-American, Asian, or Latina women.

For yellow-based skin tones, a warmer style of glasses would look good. You might not want to pick a cool-toned frame. "African Americans look fantastic with bright colored frames," Joel says. "They can pull off almost any color."

For Latinas, it's best to pair the color of the frame with the undertone of your skin.


Frame number: #538922

Caucasian redheads, brunettes, and blondes.

Redheads – try cool tones. "We all love green with redheads," Joel says. "Something like a mint color looks great. White also looks great on redheads. For brunettes with black hair, purple looks fantastic. Green, too.

Tortoiseshell and red frames look especially striking on blondes," Joel adds. "For makeup, I would suggest keeping the eyes fairly simple, with curled lashes and mascara, while playing up the lips. Blond complexions can easily get washed out, and mirroring the strength of the frame by adding a complementary lip color provides a nice balance to the face."

Striking a nice balance between your makeup and your glasses. That's what it's all about. We're finished at the makeup mirror, we've slipped on our glasses, and we're good to go!



Tuesday, September, 2 2014 by Matthew Surrence
TV has the Emmys. We have the Zennis!
We're presenting our 2014 Zennis to the TV stars who rocked their glasses the best at Monday's Emmy Awards ceremony, as well as at the Creative Arts Emmys held one day earlier.
The first Zenni goes to Jim Rash (shown with Community co-star Joel McHale), who looks great in his black horn rims, which was the most popular style of the stars.
It's not unlike Zenni frame 635521:
In the variations-on-the-theme category, Al Roker gets the Zenni Award for his beautiful glasses featuring tortoiseshell front rims with solid brown ornamented temple arms. He's shown here with Sarah Silverman, who won a writing Emmy for her variety special Sarah Silverman: We Are Miracles.
Silverman made headlines for claiming to have a pot-vaporizing pen with her, so maybe that's why it looks like she's got the munchies for Roker's glasses.
If she was still hungry after devouring those, she could feast on a similar Zenni frame, 785725:
Stephen Colbert skipped his typical rimless glasses …
… choosing instead to go with the flow, in distinguished looking full-rim ombre glasses, with a black top, tortoiseshell bottom, and keyhole bridge.



Check out Zenni's ombre tortoiseshell frame 120625:




Maybe Colbert should have stuck to his rimless glasses, or at least skipped the routine about his imaginary friend, which got no laughs and must have had some people wondering if he is the right choice to replace glasses-wearer David Letterman.

All's right with the world in this shot, with both Colbert and Letterman in rimless glasses.


Either of them – and you! – would look great in Zenni frame 134711 (shown here with lens shape 238):

Host Seth Meyers had some fun donning rimless sunglasses …


… for a play on words involving the last names of two presenters, Debra Messing and Jim Parsons, calling them "Messing Parsons," and invoking CSI star David Caruso.




Give that host a Zenni! Perhaps Zenni frame 164714 (shown with lens shape 353), with an 80 percent amber or gray tint:

Maybe the key to killing at the Emmys is sticking to your usual eyeglasses.
Key and Peele were funnier than Colbert, with Jordan Peele rocking his familiar black front, tan temple arm glasses.


He gets the Zenni for looking consistently awesome in his glasses, and you can, too, in Zenni frame 185321:
Aside from black horn rims, another super trendy eyeglasses style, translucent wayfarers, batted .500 when it came to winning Emmys. (Everybody wearing cool glasses won Zennis!)
Fred Armisen of Portlandia …
… lost the best supporting actor award in a comedy series Emmy to Modern Family star Ty Burrell, in wayfarer-style translucents.
You'll look just as awesome in Zenni's translucent frame 307223.
Jon Voight of Ray Donovan was elegant in a white scarf and rectangular half-rims.


Zenni frame 777515 is just as cool, if not maybe a little cooler:

Don Was, who led the '80s band Was (Not Was), won for music direction for The Beatles: The Night That Changed America. He gets the Zenni for best blast-from-the-past, in his throwback round, silver-rimmed sunglasses.
Here's his award, Zenni frame A8450021, a pair of round, non-prescription sunglasses:
Unfortunately (if you like seeing people in glasses, like we do) most of the female presenters and winners skipped eyewear. But Kathy Bates, who won best supporting actress in a miniseries for American Horror Story: Coven, gets the Zenni for rocking her black oval cat-eye glasses.
Here's her Zenni Award – frame 628221:
Congratulations to all the Emmy and Zenni winners!
Tuesday, August, 26 2014 by Matthew Surrence
August is here, meaning that, for most of the country, days at the beach are numbered. Still, there are rays to be caught and friends to spend time with, so why not do so in style with these great summertime accessories? With all this in mind, we here at Zenni came up with a fabulous outfit you can rock at any beach- built specifically around our stylish polka dot frames of course!

Here's The Look:

Red and White Polka Dot Frames
These polka dot glasses have been selling like hotcakes and we aren't surprised. Everyone loves these full red frames with white dots. As cute as they are with regular lenses, they are simply dynamite as sunglasses! Quite affordable at only $25.95 from Zenni.





Try wearing red lipstick with these glasses for a seriously stunning face!


Retro Dots Bikini Top
In keeping with the polka dot theme, we found this incredibly cute bikini top at Forever 21. Only $9, and you have the option of buying a matching or contrasting bottom to go with it. Of course, you can just choose the top and pair it with jeans, a maxi skirt or even a sarong.



Sunscreen Sandals
These beige flip flops go with everything and offer your feet protection from the hot sand. Made from patent leather and a rubber sole, they're available from TKEES for $50.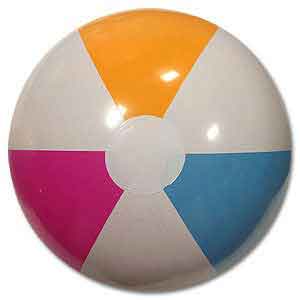 20" Retro Beach Ball
Bring out your inner child with this adorable, classic beach ball from Beachballs.com. Only $1.88 each, buy several and turn each beach outing into a party!




I Heart The Sea Beach Towel
This may be the cutest beach towel we've ever seen. Cool colors offer some relief from the heat, while declaring your love for salt water. Even better, you can monogram your towel to make it uniquely yours. $24 from PB Teen.






Wednesday, August, 13 2014 by Lainie Petersen
Let me tell you a little secret. You don't need a prescription to wear glasses. Often times, it's a conscious choice, something you do because you can. Everyone is doing it. It's as deliberate a decision as a pixie cut and it can be just as trendy. Forget about functionality. These rimmed accessories are fashion statements that anyone can wear with pride. The geekier they are, the better!




If you're a newcomer to this lensless world of geek-chic, allow me to introduce you to the scene. Somewhere between the Japanese teenagers who started this trend and NBA superstars LeBron James and Kevin Durant who perfected it, glasses for the non-glasses wearer have become fashion necessities.

More than a passing trend, this is a look with so many different styles that anyone could pull it off. With each lensless or non-prescription pair, there's an opportunity to make yourself over. One day you can play the geeky librarian and the next you can exude pure sophistication in the office.

Glasses are fashion statements with many different meanings. You can transform your look with a new pair. Before you start trying on different specs, here are some pointers to help you create a head turning look:

1.   Wear A Fresh Pair Daily
You wouldn't wear the same shirt to work every day, would you? So why should it be any different with your glasses? After all, they're as much a part of your outfit as any other item of clothing. It's funny how we change our shoes more often than we vary our glasses, and yet the rimmed accessories people tend to see first. They make the first impression. If you really want to make a statement, you need to mix things up. Nothing says Hello World quite like starting each day with a fresh, new look. One day you could choose blue cat eye frames with sparkling crystals. The next day, pick something purple, lightweight and flexible.

If you're like most people, you probably have only one pair of glasses. With great selection and budget friendly prices, it is easy to have a variety of frames at your disposal. But, don't overwhelm yourself. Shopping for a new look can be intimidating. To start, pick five of the most distinctive frames you can find. These glasses will become conversation starters, not just immobile decorations.

2.   Know Statement Glasses When You See them
You don't want just any glasses. You want statement glasses. You'll know them when you see them. You can't take your eyes off of these glasses. They are so bold people can't help but stare at them. They're going to get you lots of attention, be prepared.

Choosing statement glasses is tricky. I could say things like: follow your gut. Or: use that intuition of yours. But that's not helpful. It's a personal thing. There's no checklist for choosing a pair of statement glasses. As a rule, though, the trends aren't necessarily the statement makers. If you're looking for something different, perhaps try these. You might want a pair with an unusual shape or a unique lens color.

3.   Don't Be Afraid To Go Bold
Bright color is a good way to make a bold statement. If you want to get noticed, a pair of spring green cateye frames can do the trick. With bright color, you don't need to wear much makeup. At the same time, going bold doesn't have to equal bright and neon. Not everyone can pull off that much color.

You can turn just as many heads with a simple frame. Random tortoise shell patterns or lime green aviators will leave an impression. With plenty of different frames to choose from, you're bound to find something that's uniquely you.

If you choose to wear glasses, they shouldn't just sit there. Have fun with your frames, mix-and-match them. After all, glasses are a powerful accessory. It's up to you to get the most out of them. What kind of statement do you want your glasses to make?
Thursday, July, 10 2014 by Matt Souza