Archive for the 'Fashionista' Category

CEO, Designer and Blogger, Amy Roiland, knows a thing or two about fashion and how to pull off a chic, modern look that incorporates eyeglasses as an accent piece. Her blog, A Fashion Nerd, is one of our favorites here at Zenni, so we thought we would reach out to see if we could pick her brain a bit and maybe model some of our latest frames. Check out the interview below as well as some of her amazing images from the photo shoot!



Zenni: What is your best eyewear fashion moment?

Amy: Every moment is my best eyewear fashion moment, I wear eyeglasses every single day. The bigger and more crazy the glasses the better for me. I love big round fun eyeglasses.



Zenni: What does wearing glasses mean to you?

Amy: It means the world to me, its my entire character. A fashion nerd embodies me 100%. I am a nerd and I am a nerd for fashion. I wear eyeglasses every day.



Zenni: What trends do you see in eyewear for 2015?

Amy: Crazy fun colorful amazing shapes.



Zenni: What current fashion trends are you embracing?

Amy: I never really follow trends .. But I do love the long trench coats and jackets, that trend is very cute, very alexander wang. I love mixing feminine styles with masculine styles.




For more on Amy, follow her on instagram here!


Saturday, January, 24 2015 by Matt Souza
With part of the US being colder than the planet Mars this week it's understandable that you may want to dress a little warmer than usual. And one of the best ways you can battle the elements, while still looking chic, is to go out and get yourself a new scarf! This fashion trend is one that celebrities have been hip to for years and, if you haven't already, it's about time you stepped your game up and took a note from their playbook.

To help you out, we put together a list of some classic celebrity scarf and glasses combos, and the Zennis that complement them of course.

Jennifer Aniston
Here's another black leather jacket toting celebrity. In the look above, Jennifer Aniston is wearing a nice pastel, oversized scarf with some classic wayfarer sunglasses and bluejeans. You can find similar frames here – be sure to pick an amber tint during checkout.
Brad Pitt

It wouldn't be fair to feature a look from Jennifer Aniston without showing one from her ex-husband Brad, right? In this image, Mr. Pitt is donning an incredibly elegant grey scarf tucked into a white collared shirt and a beige sports coat. And the style wouldn't be complete without those gold rim, gradient tint aviators of course. You can get a pair just like them here if you want to emulate this look!

Johnny Depp
Johnny Depp has a look that's truly one of a kind, but one thing is for certain, the man clearly knows how to rock a scarf with glasses. In the photo above he combines a subdued but colorful one with a black leather jacket and aviators (similar to these Zennis) for a look that says, "I look good AND I'm toasty warm!" Well played sir.

Stay warm out there!
Saturday, January, 10 2015 by Matt Souza
The beginning of a New Year is always a great time to debut a new look. Need ideas? We've come up with some frames and outfit matchups that will turn heads and ramp up your style:

A Touch of Whimsy

Frame #638725

This outfit begins with a pair of  tortoiseshell wayfarers. These are incredibly versatile frames that can work with just about every look your wardrobe has to offer. In the look below, we pair it with an elegant coat and hip accessories to add a little twist to classic style.

Oversized Zip Jacket  – $39.99



How could anyone resist this gorgeous soft pink oversized zip jacket from Zara? We love the feminine shape and puffy collar for added warmth.

Fashion Boutique High-heeled Winter Boots from AliExpress – $29.92




A ladylike dress coat really should be worn with heels. Yet it's winter, so a delicate pump may expose your feet and ankles to the cold and damp. Fortunately, we were able to find these gorgeous winter boots. Yes, there is a heel (boy is there ever!) but your feet and ankles are covered. Even better, the underside of the heel and the sole are red, perfectly matching the coat.

Slate Blue Fedora from Lu Lu's – $34.00




So the frames are classic, the coat is vintage femme and the boots are spiky punk. The only thing missing from this outfit is a touch of whimsy. That's why we decided to add this cute fedora to the mix to round out the look.

Ladies Who Brunch

Frame #787922

I'm from Chicago, a city known for its marvelous brunch offerings. Indeed, there are few things more pleasant than joining friends for brunch on a cold, clear winter morning. If you'd like to make a good impression on your waiter, try pairing these ecru frames with the casual outfit we've put together.

Grey Wool Pocket Sweater from Luulla – $30.00




We absolutely love this grey wool pocket sweater from Luulla. It looks so comfortable and is the perfect cozy sweater to wear while sipping a latte and eating French toast.

Pascale Print Scarf – $3.00




Need a wee bit of extra warmth while dining? Try this warm and cozy pashmina from Cotton On. They have them in all sorts of colors, so why not stock up and stay warm until spring arrives?

Box Glitter Stud Earrings  - $38.00



All this warmth and coziness doesn't need to preclude a bit of glitter. Check out (and wear) these adorable sparkly earrings. . .they're the perfect highlight for almost any outfit.

Hipster Funk

Frame #787916

When you've had enough of convention and want to stand out, check out these frosted sky blue frames. These will definitely get you noticed.

Faux Fir Bunny Vest – $69.99




This beautiful, fashionable vest from Urban Outfitters is soft, cozy and perfect to wear as part of a layered look.

Black and White Plaid Slim Pants from She Inside – $19.17




These incredible plaid print pants offer a wonderful contrast to the light blue frames and white vest. These pants definitely pull the pants together.

Script Initial Pendant Necklace – $34.95




This outfit begs for a bit of jewelry, so we found this silver initial pendant from My Name Necklace. The modern style goes great with this look and silver and light blue are great color combination.



Sunday, January, 4 2015 by Lainie Petersen


One of the great things about getting stylish, affordable frames from Zenni is that you can finally have an eyeglass wardrobe to match any outfit or occasion. Zenni has a wide selection of glittery frames to choose from, but if you're more of a do-it-yourself-er, you'll love this tutorial for how to give your old glasses some new style!
A pair of Zenni frames (We recommend a plastic or acetate full rim frame with minimal or no embellishments.)
Mod Podge Gloss Decoupage Glue
Sponge Applicator
Glitter (your choice of color) in a shaker container
Paper plate or towel for keeping the glitter in one place.
Here's how you create DIY glittery glasses :


First, take whatever pair of Zennis you'd like to use and pop the lenses out of your frames. If you don't know how to do this, check out our video by a Zenni repair guru. You want your lenses out of your frames so that they don't get damaged.



Second, use the applicator to coat the frames with a thin layer of Mod Podge Gloss Decoupage Glue. (We advise against glittering the temples, as this can result in ear discomfort and pesky glitter in your hair.)



Shake the glitter over the frames to coat evenly. You'll probably have more luck standing over the glasses while you do this.



While Mod Podge dries quickly, it is best to let your new glitter frames dry overnight to ensure that they stay a-glittered.



Put your lenses back into your frames and enjoy!



Wednesday, December, 24 2014 by Lainie Petersen
OK, we get that you may not be into ugly Christmas sweaters. But if you'd like to contribute some general holiday cheer to the world, while avoiding potential embarrassment, here are some frames to consider from our holiday collection: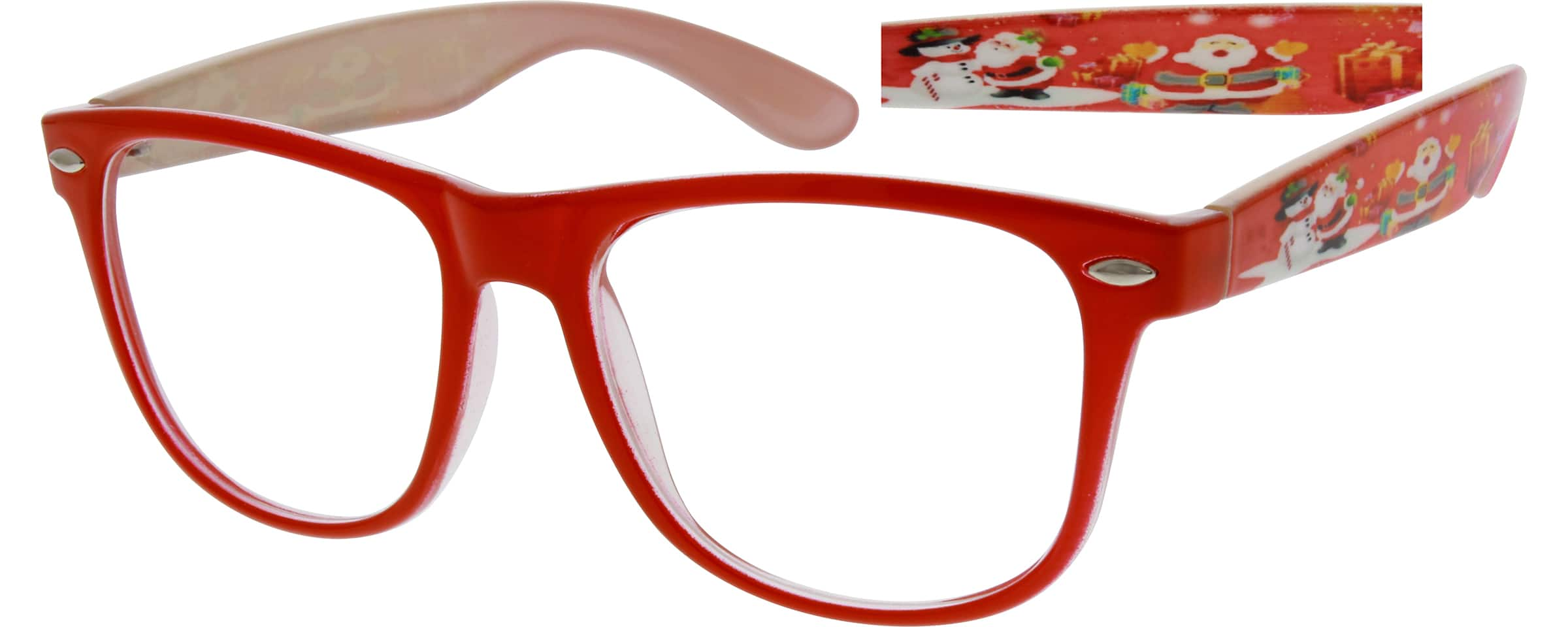 Frame #284718

The bright red color of these wayfarers is quite Christmas-y on its own, but wait…there's more! The temples incorporate a wonderful holiday motif of Santas, gifts and snowmen.




Frame #184424

If you look hard in the holiday candy section of most drug and grocery stores, you'll find an old-fashioned treat called ribbon candy. This is a hard candy in multiple colors that has been pulled thin and bent into what looks like ribbon art. These stripy frames remind me of the thin, elegant lines of color created by the pulling process. Subtle, beautiful but also very much a celebration of the holidays.




Frame #624617

As far as subtlety goes, this frame ranks somewhere between the first two on our list. The fine-line drawings of colorful Christmas symbols on black is probably safe for work, but also cheerful enough for family gatherings.




Frame #738218

If you are all about the luxe life, check out these frames. Plum frames accented with a carved design and a few rhinestones makes for a sophisticated look at evening parties.


Friday, December, 19 2014 by Lainie Petersen