Archive for the 'Frame Friday' Category
One of the great benefits of buying your frames from Zenni is that you save so much money that you afford a wardrobe of frames. Sure, there are times where you want to stick to basics, but it's also fun being able to keep your coworkers and friends guessing by regularly showing up in new and cool glasses.

We've still got some summer left, so let's have a look at some trendy summer frames that you can add to your collection:



Cool blue wayfarer style frames, combined with 80s style artwork on the temples, will definitely capture attention on the beach, at work or in the beer garden. Pair these with some colorful plastic jewelry and you'll  remind Gen X'rs of when MTV actually played music videos.



Do you remember Jolly Rancher candies?  Expect some flashbacks when wearing these gorgeous, clear frames  in eye-popping fuchsia or yellow. Cat-eye style is flattering to many face shapes, and the clear, bright colors keep things on the light side for summer.



Half-rim glasses let you maintain some gravitas while not overpowering your face. These classic half-rims are even more interesting when you order them in red. . .looks great with a tan!



Maybe not everyone can carry off these plastic frames with a stained-glass look, but if you can, go for it! These would look great paired with a colorful sundress and strappy sandals.




Outdoorsy type? These frames may look no-nonsense at first, but note the cool cutouts along the temples. This pair offers you the sturdiness you need while hiking and camping, but they'll never make you look boring.




Want to learn a secret for giving your nose a more graceful appearance? Keyhole bridge frames open up a bit more at the nose, making it look longer and more elegant. Try these full rims as regular or sunglasses and see what you think. For a more interesting look, select the blue frames!

Saturday, July, 19 2014 by Lainie Petersen

As you know, 4th of July is a favorite holiday at Zenni: We love fireworks, parades and spending time with family. The best part, though, is the outdoor cookouts. Chicken, burgers, even tofu tastes better when cooked on a grill. Naturally, you'll want to look your best while hanging out around the grill, so we've selected some frames that are awesome as sunglasses: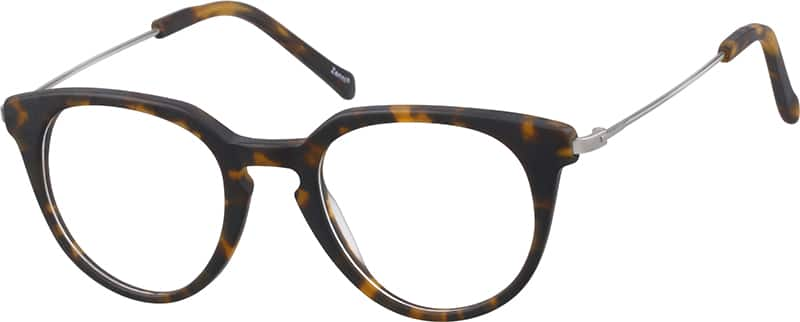 You want a classic look? We have one for you. These full-rim, tortoise shell frames with metal temples give you a serious look while also protecting your eyes against glare. If you are looking to not shock your relatives during a family barbeque, grab these and impress everyone with your maturity.

Another classic look for men, and these are hypoallergenic, even. This means that you probably won't have to worry about these frames triggering a rash, though you'll still need to take your Claritin if being outdoors in the summer gives you the sniffles. But seriously: These are the frames to wear if you want to be taken seriously. With tinted lenses, you'll look like you work for a government agency.





If you are the type of person who oveheats easily, check out these cool blue/green frames, then go find a nice hammock under a shady tree. These frames will look great with just about every skin tone: Tan, pale or somewhere in-between. Classic styling and a solid color also allows you to wear these just about anywhere from the beach to the boardroom.



These tortoiseshell frames and gold temples offer a sleek, sophisticated look for a cookout. Plus, the smaller frames give you sun protection while letting friends and family see more of your beautiful face while catching up over a plate of food.



Hey there, glamorpuss! If you want to attract attention, you could do a lot worse than these rhinestone-studded full rim frames. Pair these with some serious red lipstick or gloss, and you'll be the talk of the cookout. They'll also look great if you decide to hit the bars later in the evening.
Friday, July, 4 2014 by Lainie Petersen
In case last week's awesome selection of Red, White, & Blue amazingness didn't hit you right in the patriotism, Zenni is offering a special savings bundle on Fourth of July glasses. From July 1 through the end of July 7, enter the promo code BUY2GET1 at checkout to enjoy three new pairs for the price of two. Why? Because it's the right time for sunglasses love.
Why buy two get one free? Maybe you want three pairs of glasses so you can alternate between red, white, and blue all day. Maybe you want matching glasses with and without sunglass lenses, as well as an alternate color. Or maybe you're just stocking up for the summer.
Whatever the reason, it's great knowing summer is one of the best times to take advantage of all that value. Shop sunglasses for the whole family and throw the savings into the travel jar for a great trip later, probably to somewhere warm where you'll be grateful for stylish, high-quality sunglasses.
You're probably looking at these frames that we love to use as sunglasses and thinking about how to look great while taking care of your eyes. Sunglasses offer more than just facial style. They also provide essential protection to your eyes, shielding them from the ultraviolet rays that would otherwise damage the tissue, potentially leading to near-term discomfort and serious health risks in the long term.
With a range of sunglasses, you have the gear you need to stay healthy, whether on a wonderful summer vacation somewhere that the sun shines especially bright our just out for a walk, as well as the options to match so you look good doing it.
The Fourth makes the perfect occasion to invest in your summer eyewear for all these reasons and more. Most people spend the entire day outside, the weather tends to be hot and sunny, and these factors combine to assail your eyes. Throw on a bargain pair of trending Zenni shades to protect yourself from this barrage.
Don't miss out on Zenni's biggest sale of the summer, just in time for the Fourth. Standard Terms, Conditions, and return policies apply as usual.
Monday, June, 30 2014 by Dave Schreiner
The Fourth of July is one of our absolute favorite holidays at Zenni, both because it's so much fun for so many people, and because it gives everyone a good reason to buy patriotic glasses and sunglasses. If you love wearing colorful apparel on the Fourth, our selection of red, white, and blue glasses may make you see fireworks.
We start things off with glasses that everyone can love. They capitalize on the fact that the Fourth is one of those amazing holidays on which people can wear whatever outlandish clothing they want as long as it matches the holiday's colors. And these frames are big on color, full of the blue, white, and red you love.
However, most people opt for more versatile, subdued glasses that are appropriate everyday-wear and fit the style of festivities on The Fourth. Their on-trend blocky shape also means you'll stand out as much as you want to in them, but on your terms.
People think of red as the color of The Fourth, but blue glasses also play well on a hot summer day. The smooth transition to white in the above frames gives them a slightly retro feel that pairs will with a bathing suit or a BBQ apron.
Nonetheless, it doesn't get more 'Merican than red and white stripes, a design lifted right off our flag. If you can't stomach some Where's Waldo-style Hammer Pants for The Fourth, these glasses are your next best option. And with black temples, you don't have to relegate them to your holidays-only section of accessories.
The Fourth of July commemorates our country's independence, a solemn and proud moment. But the holiday has also grown to be about friends, family, and sharing a good time. Take advantage of great glasses that look amazing and are affordable to make the holiday that much better for you this year.
Thursday, June, 19 2014 by Dave Schreiner
Host country Brazil faced against Croatia in Sao Paulo yesterday, kicking off the 2014 FIFA World Cup, the biggest international tournament and sporting spectacle in the world. You may catch World Cup fever even if you have no interest in soccer. These hot new frames features some of the brightest colors and most exciting frames, embracing the energy and spirit of the World Cup and giving you a chance to root for your favorite teams.
You can't go wrong supporting the home team. The U.S.A. earned a tournament berth again, but they have a tough pool that includes Germany. They must fair well against both the Germans and the impressive Portugal to exit pool play with a strong record. However, every year we perform a little better. Maybe it's our time to break out on the world stage.
And who can forget the flaming orange (orange is the "queen's color" in The Netherlands) uniforms of the Dutch? They played an exciting tournament in 2010 and lost in the finals to Spain. The team looks strong this year in more reserved uniforms, so if you want to root for someone else, you could do worse than The Netherlands. And bonus perk: you'll have a hot pair of glasses after the tournament.
A soft green/turquoise like this doesn't lend itself to the rabid fandom you see in the stands, sporting full body paint. But it does give you the option to support a number of teams – especially the Ivory Coast – with green in their unis, and they might work out better with the rest of your wardrobe in the future.
Dark blue is similarly versatile both in terms of team and future fashion. Bosnia, Brazil's away kit, Croatia, and a host of other team uniforms all include a royal blue of some variety.
And then there are those of you who won't pass up on the fashion of Zenni's hottest new arrivals and deals at great prices, whether or not they resemble a World Cup team. Throw on these black and yellow frames and somebody is sure to confuse you with a fan.
Or you could take it to another level and use your glasses to support polar bears, snow leopards, and other endangered species, similar to what Iran did with its jerseys, which support the endangered Asiatic Tiger. However, you enjoy the World Cup, be sure to take advantage of Zenni's great fashions and styles.
Thursday, June, 12 2014 by Dave Schreiner