Archive for the 'Frame Friday' Category
Yes, it's that time of year. Time to savor the last days of freedom and spend time with friends and family. It's also time to update your wardrobe, so don't forget to take a critical look at your eyeglasses: Zenni has a huge selection of frames and colors, so be sure to pick out a pair or two that will not only help you study, but make sure you look great while doing it.

Bonus Savings: Use coupon code SCHOOL10 at check-out to get 10% off your order. Hurry, though, because this offer expires on August 15th, 2014.





Not ready to leave summer behind? Try out these wayfarer full-rim glasses in green with orange accents. (The bright colors remind me of a picnic table set with Fiestaware.) Wear these on the first day of classes and make a statement!




Do you start off the school year feeling a bit shy? Get adventurous with a pair of full-rim acetate frames in either red or blue plaid: Add these to an otherwise conservative, solid-color outfit and you'll definitely shine.




These sturdy, acetate frames are accented with subtle stripes, making them far more interesting than plain frames, but without being too distracting.




Now here is a cool look for Fall: These plastic wayfarers come in some nifty colors, but the clear frames with orange temples is really something else. Wear them to match the fall foliage and they'll take you all the way to Halloween in style!





Are all these colors a bit too much ? That's OK, check out these rectangle frames in a super-cool woodgrain pattern. (Also comes in black.) This may not be the pair for everyone, but it may be the pair for you.





These wayfarers come in six colors, at since they start at only $15.95 a pair, you can get several to match any outfit. Another option is to select frames that match your school colors! Seriously: This frame is an updated classic that can carry you through the school year, so stock up while taking advantage of the school10 savings code!
Friday, August, 1 2014 by Lainie Petersen

In honor of Comic-Con, we thought we'd highlight some nerdy chic frames that feature some interesting textures, shapes and colors. Wear these and show off your geek pride!

(Don't need glasses? Don't worry, all of these frames can be ordered with non-prescription lenses.)

Wayfarers
Wayfarers are classics, which is probably why game developers and comics writers/artists add them to their characters. Here are two updated wayfarers that are great for cosplay, but are sure to make you stand out from the crowd:




These sleek Gordon Freeman-style wayfarers seem to be super-conservative, until you look a little closer and spy those cool metal details on the temples. If you wanted to get even more bold and original, try the tortoiseshell version. Either way, these acetate frames are sturdy and flattering and will carry you from con to boardroom with ease





Clark Kent's wayfarers are really just a clever disguise: Superman has x-ray vision after all, and hardly needs prescription lenses. Still,  those thick black frames give Clark Kent some reasonable cover and probably make people take him seriously. These plastic full rim wayfarers may look ordinary, but check out those temples. They're accented with a crisscross diamond pattern that lets people know there's more to you than might immediately meet the eye.

Anime Looks
Love anime?  Get the look you want with these whimsical styles from Zenni.




Electric blue frames with a double bar nose bridge will definitely get you noticed. Sure, you could go with the more conservative brown version, but what would be the point?





Feeling feline-ish? There's nothing subtle about these highly styled cat's-eye frames. Choose between black or tortoiseshell.




Feeling quirky? (Or more quirky than usual?) Check out these plaid frames. Yes, they're from the Valentine's Day collection, but we all need love year-round.





Girls just want to have fun, and Zenni sells these frames to prove it. Who wouldn't have fun wearing one of these frames (in blue, black, red or green) speckled with tiny white polka-dots? In fact, who wouldn't have fun looking at someone wearing these glasses?
Friday, July, 25 2014 by Lainie Petersen
One of the great benefits of buying your frames from Zenni is that you save so much money that you afford a wardrobe of frames. Sure, there are times where you want to stick to basics, but it's also fun being able to keep your coworkers and friends guessing by regularly showing up in new and cool glasses.

We've still got some summer left, so let's have a look at some trendy summer frames that you can add to your collection:



Cool blue wayfarer style frames, combined with 80s style artwork on the temples, will definitely capture attention on the beach, at work or in the beer garden. Pair these with some colorful plastic jewelry and you'll  remind Gen X'rs of when MTV actually played music videos.



Do you remember Jolly Rancher candies?  Expect some flashbacks when wearing these gorgeous, clear frames  in eye-popping fuchsia or yellow. Cat-eye style is flattering to many face shapes, and the clear, bright colors keep things on the light side for summer.



Half-rim glasses let you maintain some gravitas while not overpowering your face. These classic half-rims are even more interesting when you order them in red. . .looks great with a tan!



Maybe not everyone can carry off these plastic frames with a stained-glass look, but if you can, go for it! These would look great paired with a colorful sundress and strappy sandals.




Outdoorsy type? These frames may look no-nonsense at first, but note the cool cutouts along the temples. This pair offers you the sturdiness you need while hiking and camping, but they'll never make you look boring.




Want to learn a secret for giving your nose a more graceful appearance? Keyhole bridge frames open up a bit more at the nose, making it look longer and more elegant. Try these full rims as regular or sunglasses and see what you think. For a more interesting look, select the blue frames!

Saturday, July, 19 2014 by Lainie Petersen

As you know, 4th of July is a favorite holiday at Zenni: We love fireworks, parades and spending time with family. The best part, though, is the outdoor cookouts. Chicken, burgers, even tofu tastes better when cooked on a grill. Naturally, you'll want to look your best while hanging out around the grill, so we've selected some frames that are awesome as sunglasses: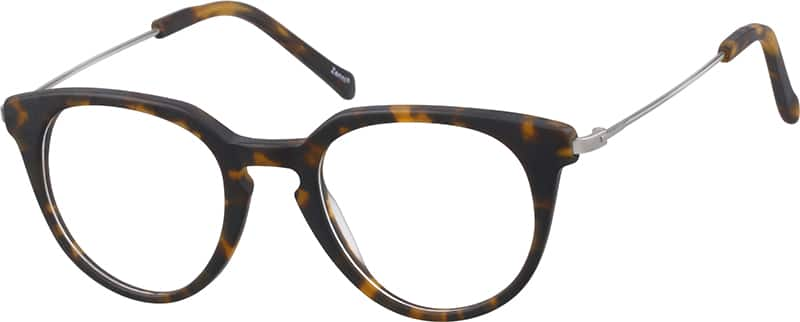 You want a classic look? We have one for you. These full-rim, tortoise shell frames with metal temples give you a serious look while also protecting your eyes against glare. If you are looking to not shock your relatives during a family barbeque, grab these and impress everyone with your maturity.

Another classic look for men, and these are hypoallergenic, even. This means that you probably won't have to worry about these frames triggering a rash, though you'll still need to take your Claritin if being outdoors in the summer gives you the sniffles. But seriously: These are the frames to wear if you want to be taken seriously. With tinted lenses, you'll look like you work for a government agency.





If you are the type of person who oveheats easily, check out these cool blue/green frames, then go find a nice hammock under a shady tree. These frames will look great with just about every skin tone: Tan, pale or somewhere in-between. Classic styling and a solid color also allows you to wear these just about anywhere from the beach to the boardroom.



These tortoiseshell frames and gold temples offer a sleek, sophisticated look for a cookout. Plus, the smaller frames give you sun protection while letting friends and family see more of your beautiful face while catching up over a plate of food.



Hey there, glamorpuss! If you want to attract attention, you could do a lot worse than these rhinestone-studded full rim frames. Pair these with some serious red lipstick or gloss, and you'll be the talk of the cookout. They'll also look great if you decide to hit the bars later in the evening.
Friday, July, 4 2014 by Lainie Petersen
In case last week's awesome selection of Red, White, & Blue amazingness didn't hit you right in the patriotism, Zenni is offering a special savings bundle on Fourth of July glasses. From July 1 through the end of July 7, enter the promo code BUY2GET1 at checkout to enjoy three new pairs for the price of two. Why? Because it's the right time for sunglasses love.
Why buy two get one free? Maybe you want three pairs of glasses so you can alternate between red, white, and blue all day. Maybe you want matching glasses with and without sunglass lenses, as well as an alternate color. Or maybe you're just stocking up for the summer.
Whatever the reason, it's great knowing summer is one of the best times to take advantage of all that value. Shop sunglasses for the whole family and throw the savings into the travel jar for a great trip later, probably to somewhere warm where you'll be grateful for stylish, high-quality sunglasses.
You're probably looking at these frames that we love to use as sunglasses and thinking about how to look great while taking care of your eyes. Sunglasses offer more than just facial style. They also provide essential protection to your eyes, shielding them from the ultraviolet rays that would otherwise damage the tissue, potentially leading to near-term discomfort and serious health risks in the long term.
With a range of sunglasses, you have the gear you need to stay healthy, whether on a wonderful summer vacation somewhere that the sun shines especially bright our just out for a walk, as well as the options to match so you look good doing it.
The Fourth makes the perfect occasion to invest in your summer eyewear for all these reasons and more. Most people spend the entire day outside, the weather tends to be hot and sunny, and these factors combine to assail your eyes. Throw on a bargain pair of trending Zenni shades to protect yourself from this barrage.
Don't miss out on Zenni's biggest sale of the summer, just in time for the Fourth. Standard Terms, Conditions, and return policies apply as usual.
Monday, June, 30 2014 by Dave Schreiner