Archive for the 'Frame Friday' Category
OK, we get that you may not be into ugly Christmas sweaters. But if you'd like to contribute some general holiday cheer to the world, while avoiding potential embarrassment, here are some frames to consider from our holiday collection: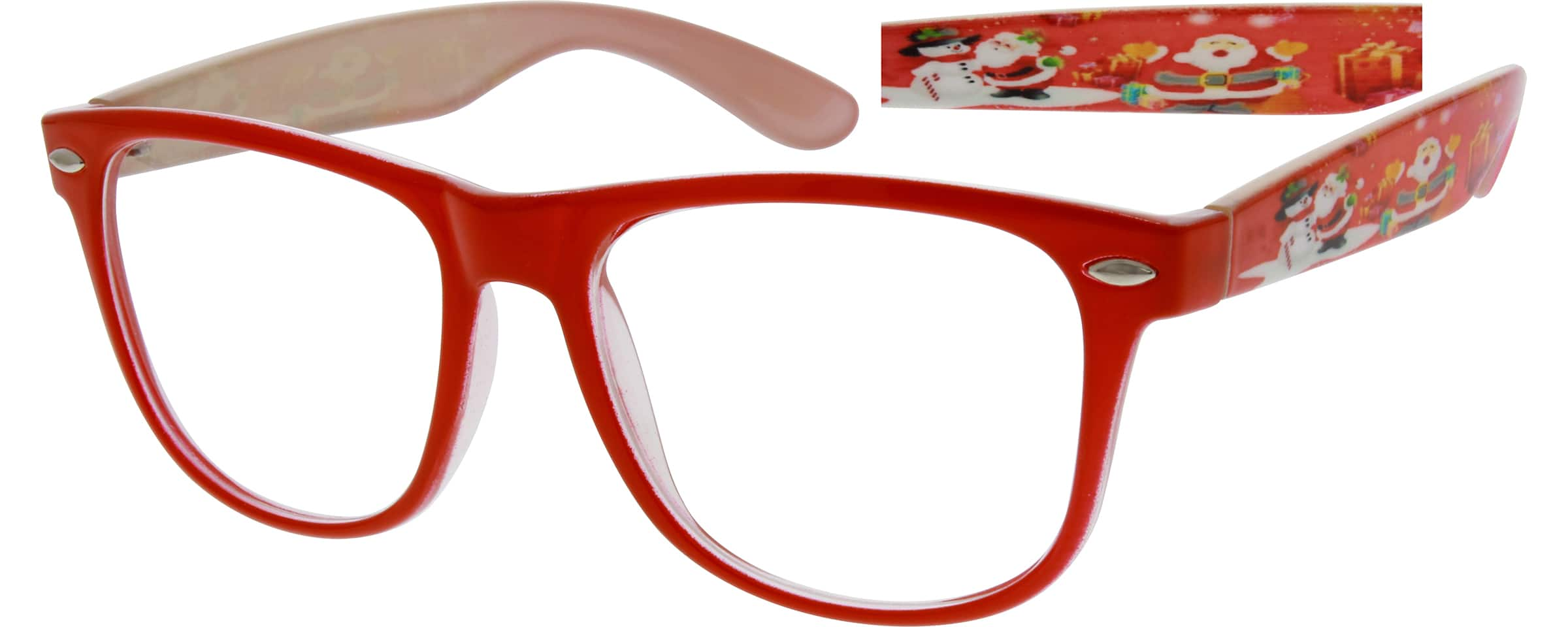 Frame #284718

The bright red color of these wayfarers is quite Christmas-y on its own, but wait…there's more! The temples incorporate a wonderful holiday motif of Santas, gifts and snowmen.




Frame #184424

If you look hard in the holiday candy section of most drug and grocery stores, you'll find an old-fashioned treat called ribbon candy. This is a hard candy in multiple colors that has been pulled thin and bent into what looks like ribbon art. These stripy frames remind me of the thin, elegant lines of color created by the pulling process. Subtle, beautiful but also very much a celebration of the holidays.




Frame #624617

As far as subtlety goes, this frame ranks somewhere between the first two on our list. The fine-line drawings of colorful Christmas symbols on black is probably safe for work, but also cheerful enough for family gatherings.




Frame #738218

If you are all about the luxe life, check out these frames. Plum frames accented with a carved design and a few rhinestones makes for a sophisticated look at evening parties.


Friday, December, 19 2014 by Lainie Petersen
Don't get so distracted as you comb through this weekend's deals that you forget about yourself! Below are three of our top selling frames, which are all curiously classic in design. (Each of these can be ordered with standard or tinted lenses.)

Treat yourself to a new pair for the New Year!




Frame #270416

Our classic wayfarers are always popular, even with those folks who aren't into geek-chic. Even better, while you can certainly buy these frames in basic black, they also come in light blue, green, and even a transparent/orange model.




Frame #270416

Standard wayfarers are distinctly unisex, which is just fine, except when you want to wear something that's a bit more ladylike. Here's a set of cat eye frames that still echo the classic wayfarer look. Basic black goes with everything, but try the tortoise shell for a bit of fun.




Frame #612921

Zenni recommends these wayfarers to customers who want to look serious. While there is something to this recommendation, I'd also say that these square-ish frames could also be deeply ironic when paired with a neck beard and trilby. Give the look a try and see what happens.

Don't forget: Zenni sells e-gift cards! Our  gift cards allow recipients to choose and customize their own glasses (or sunglasses) right on Zenni's site.


Friday, November, 28 2014 by Lainie Petersen
Not a Christmas sweater person? We don't blame you. And even if you are, your boss may have a few things to say about your wearing one to work. Still, it's time to get into the holiday spirit and we have some fun, but work-friendly frames that celebrate both Christmas and the New Year!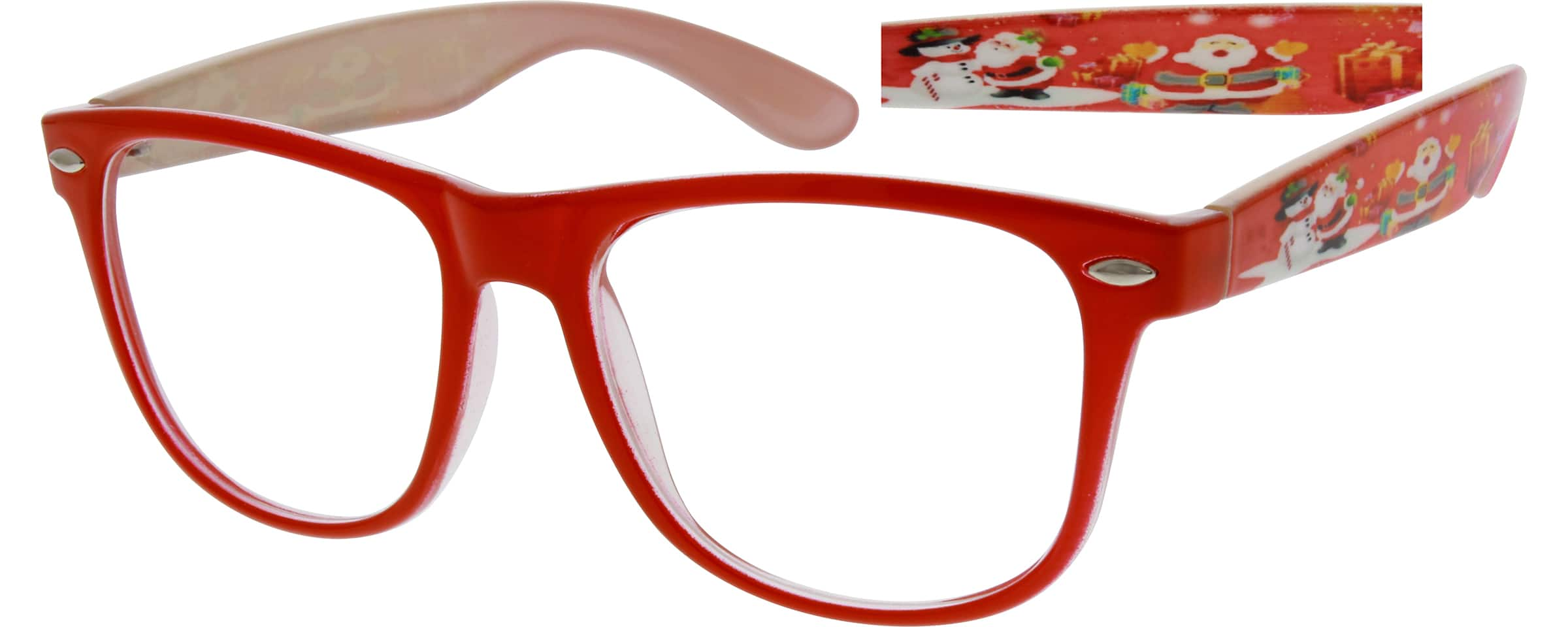 Frame #284718

Santas and snowmen. What's not to love? We have here a wayfarer frame in scarlet red with some holiday cheer painted on the temples. You could save these for the office Christmas party, but I'd suggest wearing them beginning December 1st to get everyone at work or at the gym excited about Santa, egg nog, and claymation specials.



Frame #284521

Here's a similar concept, Christmas images on the temples, but in a black, rectangular frame. If you are the serious type, wear these throughout the day and watch people's reactions when they realize you are wearing Christmas glasses.



Frame #624816

If you are into subtlety, check these out.  A deep blue frame with white stars and outlines of holiday gifts, people will have to look long and hard to guess what you are wearing. This is great if you don't mind being stared at. Otherwise, choose something else.




Frame #450014

Do you play Santa or Mrs. Claus each year? These gold wire frames are just what you need. Even better, they are incredibly inexpensive. Stock up now!



Frame #276517

Want to celebrate 2015 in style?  Try these festive purple frames with peacock feathers. These would go wonderfully well with a basic black ensemble. In addition, these deep, rich colors will carry you through the rest of winter in style.



Frame #608772

Not only will these  floral and paisley prints look great on New Year's Eve, they'll also look fantastic at brunch the next day. Plus, they're a cheery accessory while you wait for the days to get longer during January and February.
Friday, November, 21 2014 by Lainie Petersen
We've got even more fall frames to show you, but this time I'm mixing things up a bit. In my previous Frame Fridays, I've shown off dark, rich colors. But for those who you like to keep things bright and cheery all year 'round, these are for you:



Frame #666918

I admit that these plaid glasses aren't a look that everyone can pull off. But they are gorgeous and would look great paired with a solid black or dark blue shirt or dress.




Frame #306416

These unisex rectangle frames are made from transparent blue acetate and are great for days when you want to lighten things up a little. Try pairing with an ivory or cream colored shirt and a contrasting black or navy blue jacket.



Frame #662919

You are in the pink with these transparent frames! The wayfarer style flatters most faces, as does this shade of delicate pink which gives you the look of having a healthy glow – even as the days get shorter and you're staying inside more and more.




Frame #297716

These frosted, gradient blue frames scream "ladies who brunch." You could wear them to work, and they'd look great, but I'm more inclined to suggest pairing them with a warm cardigan, your best jeans, and Bloody Marys with friends.


Friday, November, 7 2014 by Lainie Petersen
Hopefully you are getting settled into fall and appreciating some cooler weather and colorful foliage. We're doing the same here at Zenni, at least when we aren't planning fun stuff like our Halloween costume contest! We're also getting raves about our fall frames, so we decided to share a few more with you:




Frame #677525

Here's a pair for the men: Half-frame Clubmaster-style rectangles combine gold wire and tortoiseshell for a professional look that'll still get you noticed at happy hour.




Frame #787321

Here's a pair of cat-eye frames with a wee twist: Instead of smooth, swooping curves, these frames incorporate some straight lines and subtle angles. Perfect for making an impression at work or in the classroom. The black/silver combo also signals that you mean business.




Frame #285926

Here's a very different sort of cat-eye frame: Blue with tortoise markings. While I don't think there are any cat breeds that actually match this description, the frames themselves are beautiful. Try pairing these with gray or navy clothing for a stunning look.




Frame #184116

This fall appears to be the season of the cat-eye: Here's a classic, elegant pair of cat-eyes with thinner rims that frame your eyes beautifully. Notice the dark, dark blue of these frames: I'd pair these with black clothing for a subtle, elegant contrast.


Friday, October, 24 2014 by Lainie Petersen