Archive for the 'Quick Facts' Category
Those who love to ski hit the slopes with a smile as soon as winter descends! While many do not love the cold, selecting your winter accessories is a perfect opportunity to have fun with fashion that also serves a practical purpose. Whether you need prescription glasses or not, every skier should be sporting a pair of sunglasses to protect their eyes from wind, glare, and debris as they whiz down the snowy hills. Below are some of our favorite Zenni prescription glasses for those who enjoy winter sports:


Frame #705224

Downhill skiers who have a need for speed will love these green wind goggles. While durable, they have a sleek, modern look suitable for both men and women. Special note: The curved lens may not be compatible with certain astigmatism prescriptions. If you have questions about the compatibility of your prescription, please contact us before placing an order.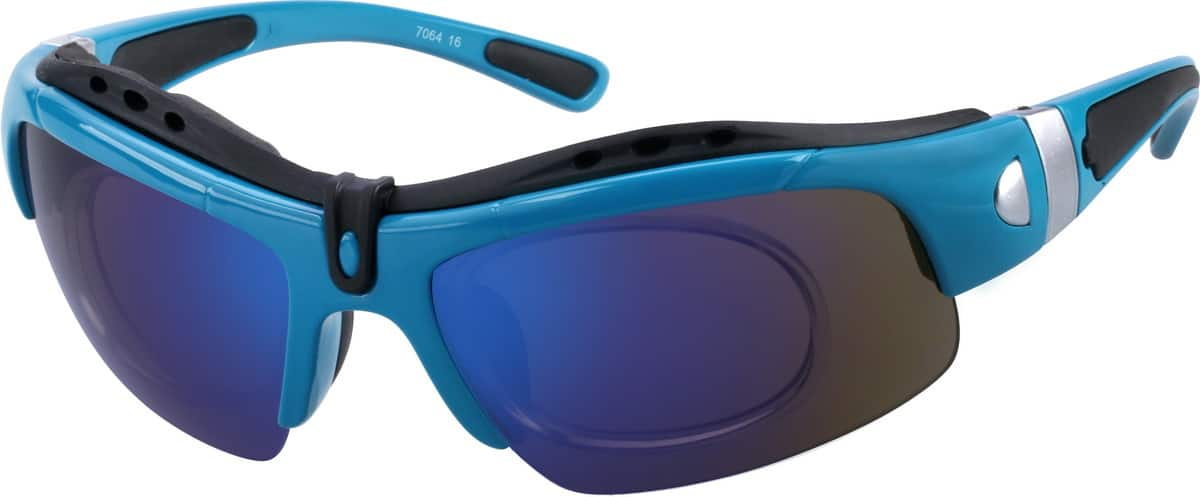 Frame #706416

For those who want to make a bolder statement, these blue and black wind goggles provide comfort as well as protection. The rubber temples ensure a secure fit and is a popular design for both skiing and biking.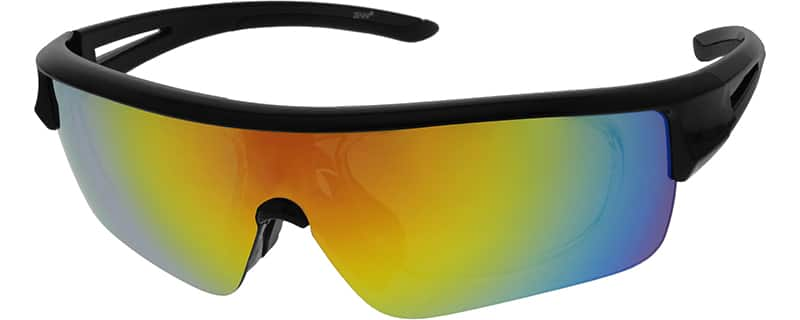 Frame #707221

These one-panel wind goggles have a colorful, ultra-cool mirrored finish and fit well on smaller heads, making them perfect for any teenage ski enthusiasts that you happen to know.




Frame #489430 with 80% Gray Tint

Wind goggle styles are not for everyone, but you still need to protect your eyes from the elements. These white acetate frames have temples with a retro checkerboard pattern reminiscent of the 1980s. This fun, sporty look pairs beautifully with tinted lenses.For the best protection, we recommend polarized lenses, which will not change the look of your glasses, but will provide an optimal skiing experience.​




Frame #638821 with 80% Gray Tint

With their classic style, these wayfarers are suitable for just about any occasion, including winter sports. These full-rimmed black wayfarers have bigger lenses, which provide more coverage from sun and wind than traditional wayfarers. While many choose these frames because of their simple but chic look, if you're feeling adventurous, try pairing them with a mirror tint. Either way, you will look marvelous while swishing down the slopes!



Frame #677525 with 80% Gray Tint

These men's Clubmaster-style, full-rim glasses are the perfect balance between traditional and modern design. The tortoiseshell provides a clean yet distinctive look, that is never dated and always brings a dash of sophistication to any ensemble.


Saturday, January, 17 2015 by Kate McDonagh
The beginning of a New Year is always a great time to debut a new look. Need ideas? We've come up with some frames and outfit matchups that will turn heads and ramp up your style:

A Touch of Whimsy

Frame #638725

This outfit begins with a pair of  tortoiseshell wayfarers. These are incredibly versatile frames that can work with just about every look your wardrobe has to offer. In the look below, we pair it with an elegant coat and hip accessories to add a little twist to classic style.

Oversized Zip Jacket  – $39.99



How could anyone resist this gorgeous soft pink oversized zip jacket from Zara? We love the feminine shape and puffy collar for added warmth.

Fashion Boutique High-heeled Winter Boots from AliExpress – $29.92




A ladylike dress coat really should be worn with heels. Yet it's winter, so a delicate pump may expose your feet and ankles to the cold and damp. Fortunately, we were able to find these gorgeous winter boots. Yes, there is a heel (boy is there ever!) but your feet and ankles are covered. Even better, the underside of the heel and the sole are red, perfectly matching the coat.

Slate Blue Fedora from Lu Lu's – $34.00




So the frames are classic, the coat is vintage femme and the boots are spiky punk. The only thing missing from this outfit is a touch of whimsy. That's why we decided to add this cute fedora to the mix to round out the look.

Ladies Who Brunch

Frame #787922

I'm from Chicago, a city known for its marvelous brunch offerings. Indeed, there are few things more pleasant than joining friends for brunch on a cold, clear winter morning. If you'd like to make a good impression on your waiter, try pairing these ecru frames with the casual outfit we've put together.

Grey Wool Pocket Sweater from Luulla – $30.00




We absolutely love this grey wool pocket sweater from Luulla. It looks so comfortable and is the perfect cozy sweater to wear while sipping a latte and eating French toast.

Pascale Print Scarf – $3.00




Need a wee bit of extra warmth while dining? Try this warm and cozy pashmina from Cotton On. They have them in all sorts of colors, so why not stock up and stay warm until spring arrives?

Box Glitter Stud Earrings  - $38.00



All this warmth and coziness doesn't need to preclude a bit of glitter. Check out (and wear) these adorable sparkly earrings. . .they're the perfect highlight for almost any outfit.

Hipster Funk

Frame #787916

When you've had enough of convention and want to stand out, check out these frosted sky blue frames. These will definitely get you noticed.

Faux Fir Bunny Vest – $69.99




This beautiful, fashionable vest from Urban Outfitters is soft, cozy and perfect to wear as part of a layered look.

Black and White Plaid Slim Pants from She Inside – $19.17




These incredible plaid print pants offer a wonderful contrast to the light blue frames and white vest. These pants definitely pull the pants together.

Script Initial Pendant Necklace – $34.95




This outfit begs for a bit of jewelry, so we found this silver initial pendant from My Name Necklace. The modern style goes great with this look and silver and light blue are great color combination.



Sunday, January, 4 2015 by Lainie Petersen
Well 2014 is coming to a close and what a year it was! To commemorate another year in the books, we decided to put together this fun infographic highlighting some of our best memories and stats of 2014. Enjoy, and here's to an amazing 2015 from everyone here at Zenni!


Wednesday, December, 31 2014 by Matt Souza

Frame #270421

NYE style varies from person to person, event to event. Black tie parties at downtown hotels require a heavy dose of glam, while pizza and beer at your best friend's place merits your best black skinny jeans and a funky top. But whether you plan to dress up or down this New Year's Eve, a bit of glitter is always an appropriate way to greet the new year.

Why? I'm not entirely sure, but I think it has something to do with celebrations. We all love watching the pretty, sparkly bubbles rise to the top of champagne, and the mirrored ball that graces celebration in Times Square.  Heck, New Year's Eve is even time for fireworks in many places. A pair of gold glitter frames will add a festive touch to any NYE outfit and will be a great conversation starter!

Now aside from Zenn's other selection of glittery frames, we can show you how to make your own. Check out this post on DIY glitter frames and get crafting. In fact, we'd love to see your creations! Tweet them to us at @zennioptical.

Happy New Year!


Monday, December, 29 2014 by Lainie Petersen


One of the great things about getting stylish, affordable frames from Zenni is that you can finally have an eyeglass wardrobe to match any outfit or occasion. Zenni has a wide selection of glittery frames to choose from, but if you're more of a do-it-yourself-er, you'll love this tutorial for how to give your old glasses some new style!
A pair of Zenni frames (We recommend a plastic or acetate full rim frame with minimal or no embellishments.)
Mod Podge Gloss Decoupage Glue
Sponge Applicator
Glitter (your choice of color) in a shaker container
Paper plate or towel for keeping the glitter in one place.
Here's how you create DIY glittery glasses :


First, take whatever pair of Zennis you'd like to use and pop the lenses out of your frames. If you don't know how to do this, check out our video by a Zenni repair guru. You want your lenses out of your frames so that they don't get damaged.



Second, use the applicator to coat the frames with a thin layer of Mod Podge Gloss Decoupage Glue. (We advise against glittering the temples, as this can result in ear discomfort and pesky glitter in your hair.)



Shake the glitter over the frames to coat evenly. You'll probably have more luck standing over the glasses while you do this.



While Mod Podge dries quickly, it is best to let your new glitter frames dry overnight to ensure that they stay a-glittered.



Put your lenses back into your frames and enjoy!



Wednesday, December, 24 2014 by Lainie Petersen