Archive for the 'Quick Facts' Category

We've blogged before about how wearing glasses can make you seem more intelligent. Now we'd like to hear about how your glasses carried you through your school days. If you are a high school senior who has been accepted to an accredited college in the United States, or a student at an accredited university in the U.S., you are eligible to compete for one of three poetry scholarships! The grand prize winner receives a $5,000 scholarship, with two additional prizes of  is $3,000 and $1,000.

As you might expect, there's an eyeglass theme to this contest. We want you to write 250 words, or less, on "Growing up with Glasses: The Formative Four-Eyed Years." Naturally, we hope you'll get creative as you describe wearing glasses in the classroom, on the football field or just while hanging out with friends. You could maybe even write an ode to your eye doctor!

Naturally, there are a lot of other details involving GPAs, transcripts and letters of recommendation that we won't get into here. Mosey on over to our official scholarship website to learn more about the scholarship and its requirements. The deadline is April 1st, 2015, so don't wait too long to get those creative juices flowing.
Tuesday, December, 16 2014 by Lainie Petersen
1. Elf Christmas Sweater
UglyChristmasSweater.com – $51.99



If you can't dress up as Santa this Christmas, try this elf sweater paired with simple black frames adorned with cunning silver stars. Aren't you precious?



Frame #220421
2. Quirky, Yet Conservative
Croft and Barrow – $30



OK, a part of me is really reluctant to mock this sweater, particularly since it is in such lovely, muted colors. Still, it is a Christmas sweater, which is always problematic. Try pairing these lovely frosted blue frames below with this sweater and make a statement at your next holiday party.




Frame #270516

3. Get Your Fat Pants Ready!
Ugly Christmas Sweater Party – $34.50


My main objection to this sweatshirt is that turkey isn't a terribly caloric meat, making the statement about "fat pants" untruthful. The problem is the side dishes, Christmas candy and sweet booze that we all love to consume this time of year. Still, our lovely tortoiseshell rectangular frames nicely pick up the color of an expertly roasted holiday bird.



Frame #293125

4. The Other Ugly Christmas Pullover
The Sweater Store – $35



This sweater took me back to the early 80s, when MTV played music and we got to play around with a LOT of bright colors. Pair this sweater with some denim jeggings and these purple frames for a fun party look!



Frame #229317

5. The Sporty Look (available for all NFL teams!)
Clark Toys – $69.99



Sports fan? Show your team spirit with this sweater. Pair with some black wayfarers with blue accents and you'll be looking good this football season if you're rocking this Chargers sweatshirt.



Frame #244621

6. The Adult Onesie
Tipsy Elves – $79.95



The time-honored Christmas adult onesie ensures that your 2-year old nephew won't get all the attention this year at your family's holiday cabin. Pair them with these sturdy black frames that won't fall off your face no matter how many arguments you and your sister get into.



Frame #234521

7.  The Sasquatch
Middle of Beyond – $79.99



Like Santa, Bigfoot is a mythical creature. I can't think of any other parallels at this time, but I'm sure that contrarians will take great joy in wearing this Sasquatch Christmas Sweater along with these tortoiseshell frames. Deck the halls, everyone!




Frame #273425
8. The Christmaster
Ugly Sweater Store – $110



Why settle for a mere sweater when you can have a whole Christmas suit! Liven up your family parties with this Christmas suit paired with the nerd-licious black wayfarers below. Try wrapping the bridge with some green duct-tape for the full effect.




Frame #612921


Saturday, December, 6 2014 by Lainie Petersen

Earlier this month we announced our Show Your Mo' contest: Take a picture of your Movember stache, upload it to Twitter or Instagram with hashtag #Zennimo and get entered to win Amazon gift cards. The grand prize winner gets a $300 Amazon card while three other lucky winners get a $100 card.

Just in time for the holidays, too!

We've got some excellent entries so far, and we wanted to show them to you:




These Zenni frames are rocking that stache. Who knew that Ron Burgundy wore glasses when not on camera?




I dare you to walk up to this lady and say "That's nacho mustache!"

Or maybe not.




This may be my favorite of the bunch. A perfectly executed tiny stache!




This fellow appears to be wearing a hoodie, but it is so easy to imagine him in a red velvet smoking jacket. Carry on.

While  Show Your Mo' is all in good fun, Movember is about men's health and that is a very serious issue indeed. Movember is all about getting men to change their appearance for one month so that everyone can change the way they think about men's health issues, including prostate cancer, testicular cancer and mental health.

Learn more about Movember and men's health at the Movember Foundation website and send us a picture of you rocking your mustache and glasses!


Friday, November, 14 2014 by Lainie Petersen

November is Movember, a time to raise awareness of men's health! Here at Zenni, we want to celebrate Movember with two promotions:

Show us your 'stache on Instagram and Twitter with hashtag #zennimo and you can win the grand prize of a $300 Amazon card or one of three $100 Amazon gift cards.
Every time you use the hashtag, we donate $5 to The Movember Foundation. We have a goal of donating $10,000, and we hope you'll help us reach it!

Need some inspiration? Check out these iconic staches:
Tom Selleck as Magnum P.I.

Magnum P.I. not only needed to look cool, he also had to protect his eyes from the sun. These aviators in brown alloy with an amber tint  give you plenty of sun protection while going just so with your Hawaiian shirt.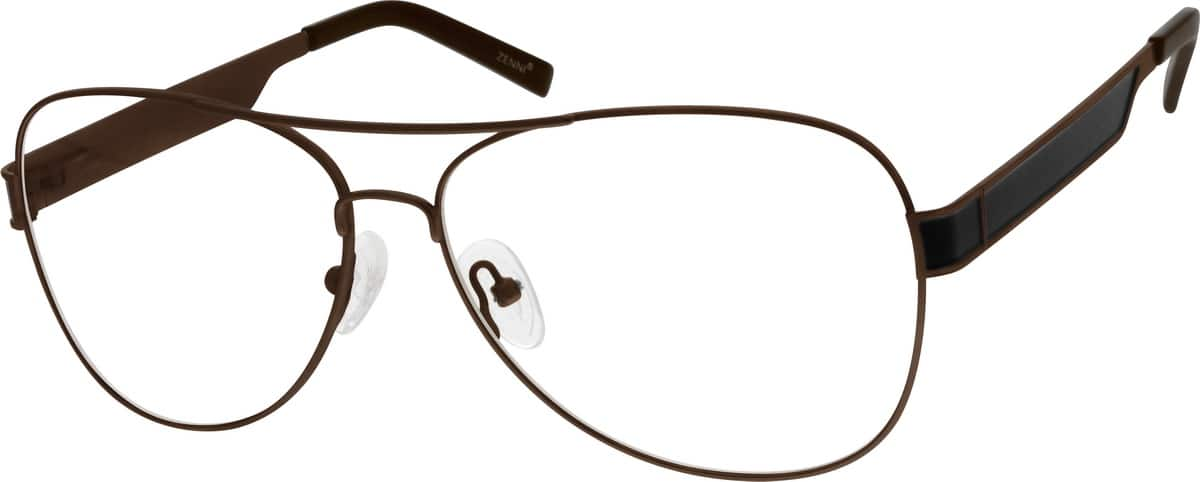 Frame #559615

Anthony Edwards as "Goose" in Top Gun


While Goose came to a sad end in Top Gun, we can take comfort in the fact that his alter ego went on to an illustrious career in emergency medicine. His sunglasses were aviators, naturally, and these silver frames blue lenses will take you from aircraft carrier to medical center (and everywhere else) in style.




Frame #419111

Freddy Mercury


Nobody had pipes like Freddy and nobody has ever captured his incredible style. Here we have a pair of titanium aviators (it seems to be a thing with mustachioed men), but with an extra bar over the nose. Add some blue tinted lenses for a serious rock and roll look.




Frame #217212

Burt Reynolds


Burt Reynolds was mega, mega man in the 70s and nobody wore a stache like him: On the rare occasions when he appeared clean-shaven, something always seemed off. To capture his look, try these black aviators with a yellow tint.




Frame #236025



Friday, October, 31 2014 by Lainie Petersen
October is Breast Cancer Awareness Month and we at Zenni want to do our part to help find a cure. That's why we're promoting Zenni Pink, incredibly cute pink and pink-and-black frames that'll turn heads wherever you go. Even better, we'll donate $1 for every pair we sell through October to either the Susan G. Komen or $1 to the National Breast Cancer Foundation!

Have a look at these awesome Zenni frames:




Frame #107219

First up is this pair of pink wayfarers: Classic styling with silver ornamentation, but the color is decidedly pink. Pair with black or gray clothing for maximum impact.




Frame #107319

This is basically the same pair, except with a larger frame that offers a wee bit more coverage. Try these as sunglasses…and yes, you do need sunglasses in fall and winter. Remember the glare from the snow? Also, these pink glasses frames will look HOT when you're sporting your summer tan.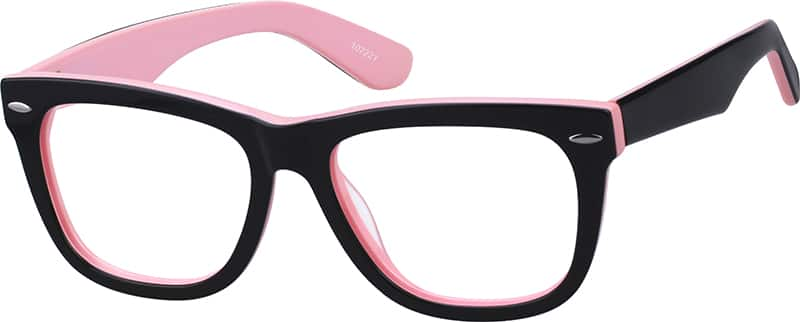 Frame #107221

I confess that these remind me of the new wave fashion so popular back in the 80s: From the front, these look like typical black wayfarers, but they contain a special surprise: They're pink on the inside! Awesome to wear anytime, but will look particularly great for a night of clubbing.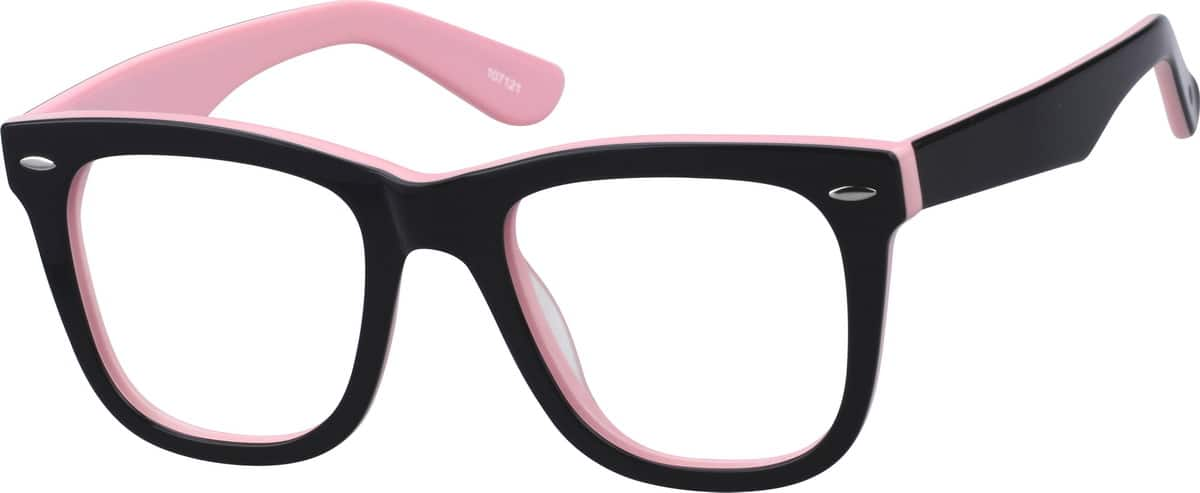 Frame #107121

As with the pink frames above, we also offer this pink-and-black look in a larger size. These offer a bit more coverage, which some people prefer. These also look incredibly cool as sunglasses.

Looking for other styles? Zenni offers a full range of frames in many different colors, including pink! Check out our site to see all that we have to offer and show your concern for breast cancer research by going pink this October.


Friday, October, 10 2014 by Lainie Petersen