Earlier this month we announced our Show Your Mo' contest: Take a picture of your Movember stache, upload it to Twitter or Instagram with hashtag #Zennimo and get entered to win Amazon gift cards. The grand prize winner gets a $300 Amazon card while three other lucky winners get a $100 card.

Just in time for the holidays, too!

We've got some excellent entries so far, and we wanted to show them to you:




These Zenni frames are rocking that stache. Who knew that Ron Burgundy wore glasses when not on camera?




I dare you to walk up to this lady and say "That's nacho mustache!"

Or maybe not.




This may be my favorite of the bunch. A perfectly executed tiny stache!




This fellow appears to be wearing a hoodie, but it is so easy to imagine him in a red velvet smoking jacket. Carry on.

While  Show Your Mo' is all in good fun, Movember is about men's health and that is a very serious issue indeed. Movember is all about getting men to change their appearance for one month so that everyone can change the way they think about men's health issues, including prostate cancer, testicular cancer and mental health.

Learn more about Movember and men's health at the Movember Foundation website and send us a picture of you rocking your mustache and glasses!


Friday, November, 14 2014 by Lainie Petersen
We've got even more fall frames to show you, but this time I'm mixing things up a bit. In my previous Frame Fridays, I've shown off dark, rich colors. But for those who you like to keep things bright and cheery all year 'round, these are for you:



Frame #666918

I admit that these plaid glasses aren't a look that everyone can pull off. But they are gorgeous and would look great paired with a solid black or dark blue shirt or dress.




Frame #306416

These unisex rectangle frames are made from transparent blue acetate and are great for days when you want to lighten things up a little. Try pairing with an ivory or cream colored shirt and a contrasting black or navy blue jacket.



Frame #662919

You are in the pink with these transparent frames! The wayfarer style flatters most faces, as does this shade of delicate pink which gives you the look of having a healthy glow – even as the days get shorter and you're staying inside more and more.




Frame #297716

These frosted, gradient blue frames scream "ladies who brunch." You could wear them to work, and they'd look great, but I'm more inclined to suggest pairing them with a warm cardigan, your best jeans, and Bloody Marys with friends.


Friday, November, 7 2014 by Lainie Petersen

November is Movember, a time to raise awareness of men's health! Here at Zenni, we want to celebrate Movember with two promotions:

Show us your 'stache on Instagram and Twitter with hashtag #zennimo and you can win the grand prize of a $300 Amazon card or one of three $100 Amazon gift cards.
Every time you use the hashtag, we donate $5 to The Movember Foundation. We have a goal of donating $10,000, and we hope you'll help us reach it!

Need some inspiration? Check out these iconic staches:
Tom Selleck as Magnum P.I.

Magnum P.I. not only needed to look cool, he also had to protect his eyes from the sun. These aviators in brown alloy with an amber tint  give you plenty of sun protection while going just so with your Hawaiian shirt.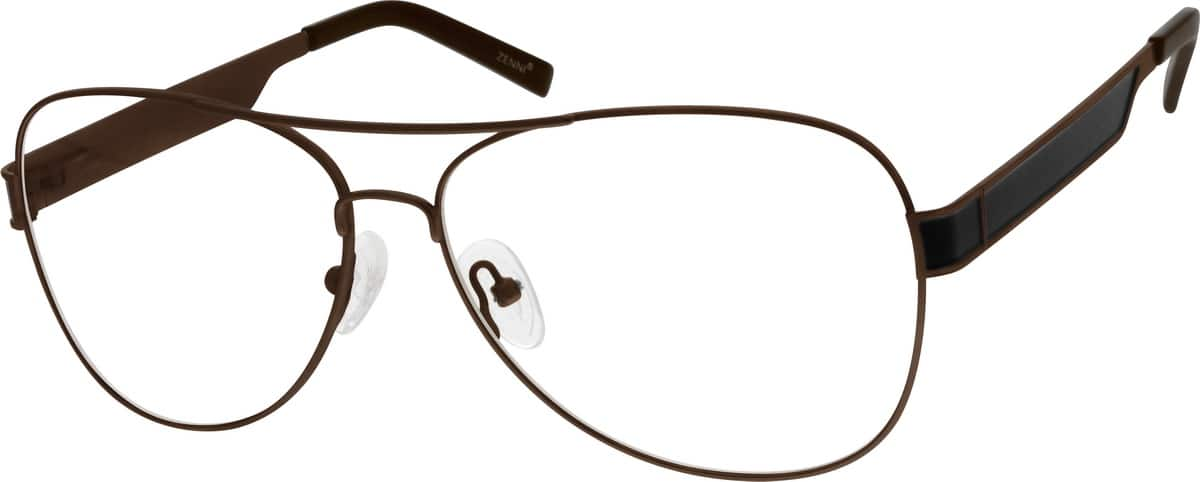 Frame #559615

Anthony Edwards as "Goose" in Top Gun


While Goose came to a sad end in Top Gun, we can take comfort in the fact that his alter ego went on to an illustrious career in emergency medicine. His sunglasses were aviators, naturally, and these silver frames blue lenses will take you from aircraft carrier to medical center (and everywhere else) in style.




Frame #419111

Freddy Mercury


Nobody had pipes like Freddy and nobody has ever captured his incredible style. Here we have a pair of titanium aviators (it seems to be a thing with mustachioed men), but with an extra bar over the nose. Add some blue tinted lenses for a serious rock and roll look.




Frame #217212

Burt Reynolds


Burt Reynolds was mega, mega man in the 70s and nobody wore a stache like him: On the rare occasions when he appeared clean-shaven, something always seemed off. To capture his look, try these black aviators with a yellow tint.




Frame #236025



Friday, October, 31 2014 by Lainie Petersen
Hopefully you are getting settled into fall and appreciating some cooler weather and colorful foliage. We're doing the same here at Zenni, at least when we aren't planning fun stuff like our Halloween costume contest! We're also getting raves about our fall frames, so we decided to share a few more with you:




Frame #677525

Here's a pair for the men: Half-frame Clubmaster-style rectangles combine gold wire and tortoiseshell for a professional look that'll still get you noticed at happy hour.




Frame #787321

Here's a pair of cat-eye frames with a wee twist: Instead of smooth, swooping curves, these frames incorporate some straight lines and subtle angles. Perfect for making an impression at work or in the classroom. The black/silver combo also signals that you mean business.




Frame #285926

Here's a very different sort of cat-eye frame: Blue with tortoise markings. While I don't think there are any cat breeds that actually match this description, the frames themselves are beautiful. Try pairing these with gray or navy clothing for a stunning look.




Frame #184116

This fall appears to be the season of the cat-eye: Here's a classic, elegant pair of cat-eyes with thinner rims that frame your eyes beautifully. Notice the dark, dark blue of these frames: I'd pair these with black clothing for a subtle, elegant contrast.


Friday, October, 24 2014 by Lainie Petersen


Last year's Master of Disg-Eyes contest was a hit, so we're doing it again!

Here's how it works:
Like our Facebook page.
Come up with an amazing costume, have someone take a picture, then upload the picture to our contest site.
Starting October 27th, get your friends and family to vote for your costume! They can vote once a day until November 4th.

This year, the grand prize is a GoPro Hero 3+, plus we have $50 Zenni gift cards for winners in four other categories: Most creative, best couple/group, scariest costume, best look-alike.




Need some inspiration? Check out last year's winners:


Steven P. dragged himself to the grand prize finish line by pairing half-rims with a new blonde-do.
Ava O. won "most creative" with her Lichtenstein-inspired costume and some awesome wayfarers!
Rebecca F. and friend became a superhero duo for a day.
Robin R. wore some wire rims to become one of the crawling dead.
We did a double-take when we saw Jeff R. all dressed up as "The Professional."

Need more ideas? Check out these entrants from last year.  Enjoy, and get creative!

Friday, October, 17 2014 by Lainie Petersen