At Zenni, we're always up for anything fun, especially if it's for a good cause. So when we heard about the Ice Bucket Challenge to raise awareness and money for ALS, we thought, "We are so down with this!"
But since we're always thinking about eyes and eyeglasses, we renamed it the 'Eyes' Bucket Challenge. And because we're in drought-plagued California, we decided to take the Ice, oops, 'Eyes' Bucket Challenge at the beach.
(Any excuse to go to the beach on a workday, right?)
So we filled our buckets with seawater along with ice, to conserve as much of our precious H2O as possible.

We did it!
We raised awareness of ALS and saved water, too.
Now, in the spirit of friendly competition, we're nominating fellow online eyeglasses retailer Warby Parker, and our marketing partners Wpromote and IMI.
C'mon in guys – the water's f-f-f-fine!
Sunday, August, 24 2014 by Dilyara Breyer
Today is National Aviation Day, when we celebrate flight and the men and women who pilot aircraft. Here at Zenni, we are also excited about our aviator frames, available in a variety of materials and colors.

As the name suggests, aviator frames (also known as "aviators") were originally developed in the 1930s as sunglasses that could protect the eyes of pilots. Eventually they were popularized by General Douglas MacArthur during World War II. The frames continued to enjoy popularity through the 20th century, peaking in 1986 after the release of Top Gun. Today, the aviator frame remains a classic: Flattering to most face shapes, wearable by men and women, and providing ample eye protection (remember, here at Zenni we offer FREE UV coating on all our glasses!).

Thinking about getting a pair? Here are some frames to check out:





These bendable titanium glasses offer a classic look, perfect for flying, driving or even doing business. The frames are bendable and hold their shape well, something that's important if you lead an active lifestyle and are afraid of breaking your frames.





Classic styling with a twist is probably the best way to describe these stainless steel aviators. Check out the subtle cut-outs on the temples to see what I'm talking about. Sure, you can wear these to work, but I'd also keep them on hand for date night.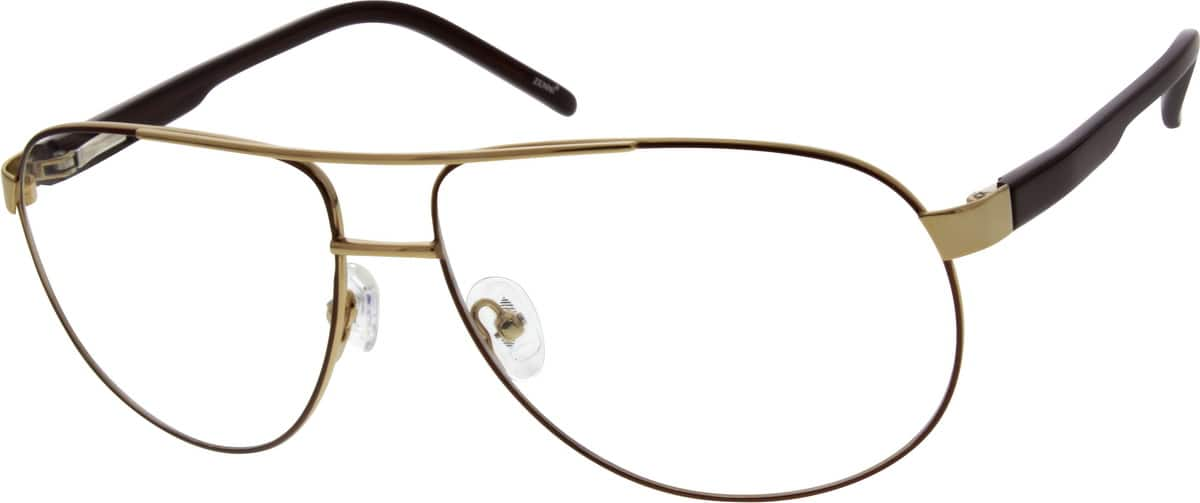 Men who like a lot of eye coverage should go for this pair: Goldtone stainless steel rim with black acetate temples suggests luxury while the large lenses give you plenty of privacy.





These plastic framed aviators are a sturdy, affordable alternative to metal sunglasses. Even better, this style comes in three different colors (red, white and green) so you can easily match them to your car, plane, swimsuit or outfit.





No-nonsense ladies should check out these brick-red ladies' aviators. They may not go with everything in your closet, but you could surely rock a pair of jeans and a black t-shirt while wearing these. Or try wearing them while out for a jog.




Here's another alternative take on the classic aviator, this time in different shades of gray. Metal rims, plastic temples and a bit of contrast in color and texture throughout.

By the way, while aviators were originally sunglasses, you don't have to order them with tinted lenses if you don't want to. Zenni's ordering system will help you select the exact lens treatments (including tints) that you want and need!

Also, be sure to check out our latest infographic to help figure out what frame size you should get!

Wednesday, August, 20 2014 by Lainie Petersen
Not so long ago, white outfits were restricted to the time between the Memorial and Labor Day holidays. Times have changed and the season for whites is not so rigid, but there is something about the hot days of summer that makes cool whites an appealing choice.

Here at Zenni, we offer a bunch of incredible white frames year 'round, but find that our top season for selling them is summer. Check out these lovely specimens and let us know what you think! Also, feel free to reference our latest infographics if you're ever curious about finding out your frame size or measuring your PD.




This pair of full-rim glasses makes me think of Devo, even though they wore black-rimmed glasses. Maybe it's the unisex, classic styling, but I suspect that it's the metal hinges that reinforce the pomo look.





These beauties aren't the least bit bit unisex: Every lady will feel absolutely gorgeous in these white and gold frames with a decidedly old-fashioned charm. Not only will this frame look great with a tan, the gold knotwork at the temples make these wonderful glasses to wear to formal events.




Another retro look that is positively sci-fi: You could definitely wear these to a con, while working in a lab, or even to the beach if you wanted to add an air of gravitas to your ocean-side frolicking. Seriously, though, this mix of white and silver isn't to be trifled with.





On one hand, these are classic, full-frame wayfarers. On the other hand, the metalwork on the temples makes them stand out. Try them as sunglasses, if you wish, but they'd also look great as regular glasses and worn an aqua blue or coral pink sundress.




There is no need to make the touch choice between white frames and wood frames. This pair has wood grain temples that bring birch trees to mind. Try them with a plaid shirt and jeans or denim shorts for a cookout in the woods.





Ladies who are looking for a no-frills, yet feminine look should check out these oval frames. Pure white, with no embellishment, the gentle curves of these glasses are saved from looking masculine by their gentle curves.





If all-white isn't your thing, check out these oval-shaped full-rim glasses. They're trimmed in red, giving them a distinctly sporty look. Keep it casual and wear them to a softball game or a barbeque.


Friday, August, 15 2014 by Lainie Petersen
August is here, meaning that, for most of the country, days at the beach are numbered. Still, there are rays to be caught and friends to spend time with, so why not do so in style with these great summertime accessories? With all this in mind, we here at Zenni came up with a fabulous outfit you can rock at any beach- built specifically around our stylish polka dot frames of course!

Here's The Look:

Red and White Polka Dot Frames
These polka dot glasses have been selling like hotcakes and we aren't surprised. Everyone loves these full red frames with white dots. As cute as they are with regular lenses, they are simply dynamite as sunglasses! Quite affordable at only $25.95 from Zenni.





Try wearing red lipstick with these glasses for a seriously stunning face!


Retro Dots Bikini Top
In keeping with the polka dot theme, we found this incredibly cute bikini top at Forever 21. Only $9, and you have the option of buying a matching or contrasting bottom to go with it. Of course, you can just choose the top and pair it with jeans, a maxi skirt or even a sarong.



Sunscreen Sandals
These beige flip flops go with everything and offer your feet protection from the hot sand. Made from patent leather and a rubber sole, they're available from TKEES for $50.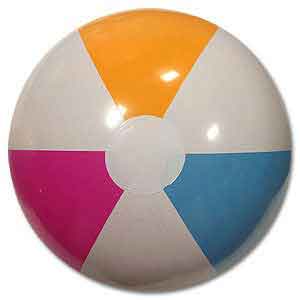 20" Retro Beach Ball
Bring out your inner child with this adorable, classic beach ball from Beachballs.com. Only $1.88 each, buy several and turn each beach outing into a party!




I Heart The Sea Beach Towel
This may be the cutest beach towel we've ever seen. Cool colors offer some relief from the heat, while declaring your love for salt water. Even better, you can monogram your towel to make it uniquely yours. $24 from PB Teen.






Wednesday, August, 13 2014 by Lainie Petersen
Recently, our Facebook fans duked it out in a frame fight. Here is the winner… along with the runners-up. While several of these styles are very different from others, they are also frames that will definitely get you noticed.



Affectionately dubbed "Dottie" by our Facebook fans, this pair of red polka dot frames is just too cute for words. While I wouldn't recommend pairing them with a polka dotted outfit (that's just too many dots to connect) these could definitely liven up an outfit made up of solid colors. Red not your color? No worries, these frames are available in four different colors, making it easy to find the pair that best suits your wardrobe.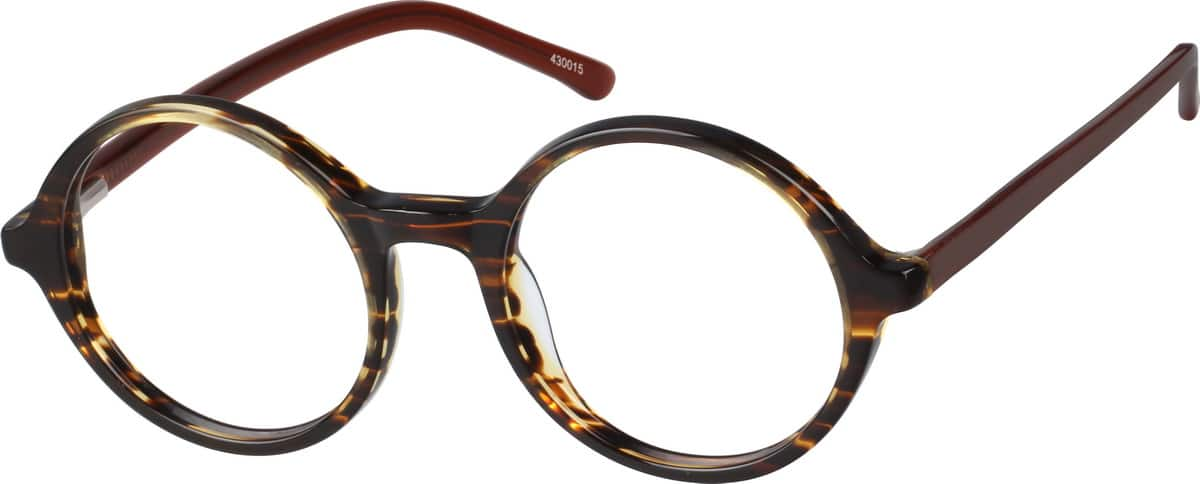 These frames stand out because of their circular shape: Not every face shape can wear something like these, but if you are looking to soften a long, angular face, give this pair a try.


Cat's eye glasses are always in style, particularly when paired with pumps and a pencil skirt. This sleek pair is downright bewitching, though, with full coverage of the entire eye area. Try them as sunglasses!



Here's a narrower set of cat's eyes with a twist: Sparkle dust in each corner. These make great special occasion glasses, of course, but I'd recommend wearing them whenever you just are feeling special. Like this coming Tuesday, for instance.  Bonus: With the curved frame and sparkly stuff, you won't have to wear much eye makeup with this pair.


These pink frames with metal temples offer a subtle, professional look, particularly for folks who don't like brightly colored or patterned frames, but want something a bit more exciting than just metal.

These rectangular, full-rim glasses can give your eyes a lot of coverage (try them as sunglasses) but also have a decidedly feminine twist: A little bow on each temple! This is a classic look that can take you from the office to the beach and back again, so it may make sense to pick up a couple of these plastic frames to keep around your home and office.
Friday, August, 8 2014 by Lainie Petersen