October is Breast Cancer Awareness Month and we at Zenni want to do our part to help find a cure. That's why we're promoting Zenni Pink, incredibly cute pink and pink-and-black frames that'll turn heads wherever you go. Even better, we'll donate $1 for every pair we sell through October to either the Susan G. Komen or $1 to the National Breast Cancer Foundation!

Have a look at these awesome Zenni frames:




Frame #107219

First up is this pair of pink wayfarers: Classic styling with silver ornamentation, but the color is decidedly pink. Pair with black or gray clothing for maximum impact.




Frame #107319

This is basically the same pair, except with a larger frame that offers a wee bit more coverage. Try these as sunglasses…and yes, you do need sunglasses in fall and winter. Remember the glare from the snow? Also, these pink glasses frames will look HOT when you're sporting your summer tan.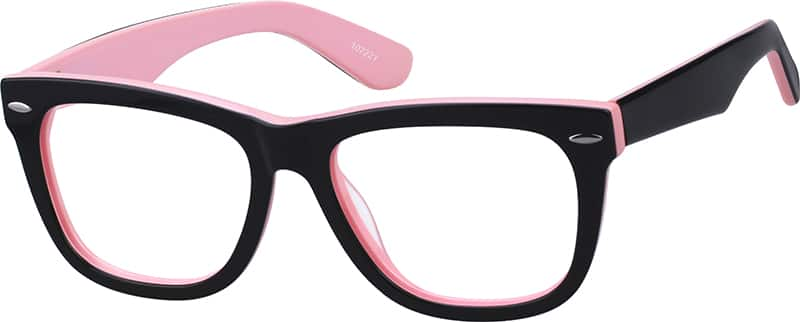 Frame #107221

I confess that these remind me of the new wave fashion so popular back in the 80s: From the front, these look like typical black wayfarers, but they contain a special surprise: They're pink on the inside! Awesome to wear anytime, but will look particularly great for a night of clubbing.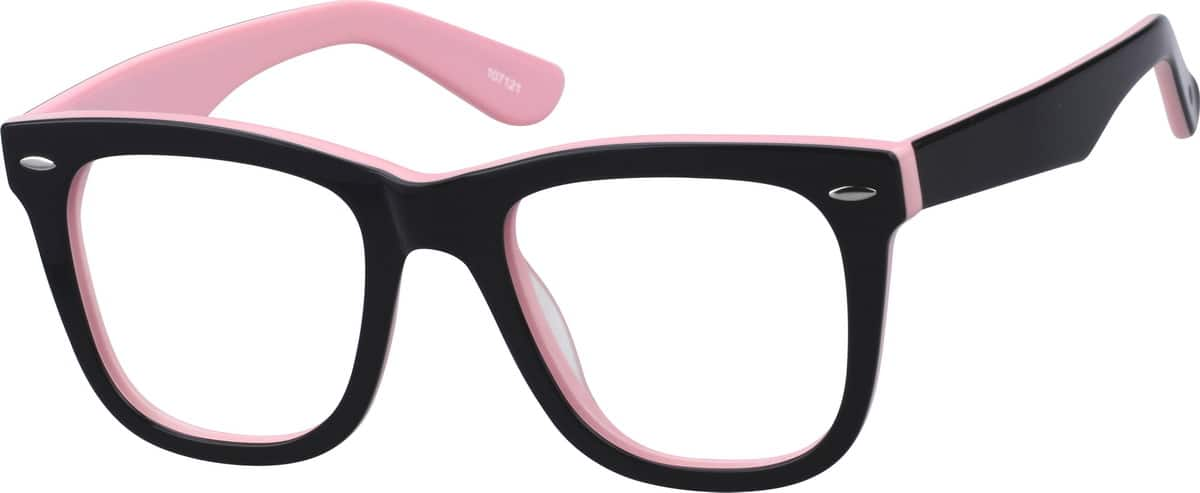 Frame #107121

As with the pink frames above, we also offer this pink-and-black look in a larger size. These offer a bit more coverage, which some people prefer. These also look incredibly cool as sunglasses.

Looking for other styles? Zenni offers a full range of frames in many different colors, including pink! Check out our site to see all that we have to offer and show your concern for breast cancer research by going pink this October.


Friday, October, 10 2014 by Lainie Petersen
Are you looking to wow friends with a pop culture costume this year? Read on. We've got some remarkably affordable ideas for you! All of these costumes are $100 or less and many are in the $50 range.

Note: You can still wear the recommended Zennis even if you don't normally wear glasses. All of our frames can be ordered with optical quality, non-prescription lenses!

The Wolf of Wall Street's Donny Azoff – $100.07

If you are a fan of The Wolf Of Wall Street, dressing up as Donny Azoff ought to be a great deal of fun, particularly with all those bright colors that he wears. Here's what you need to get this look:

Purple Gradient Tint Wayfarers
Frame #303623 with Purple Gradient Tint – $33.90
Get started with these glasses with clear front rims and silver-ornamented purple temple arms, and add a purple gradient tint to help re-create the Donny Azoff look.



Scooby Doo's Velma – $84.63


Go solve a caper, you meddling kid! All you have to is dress up like our favorite character from Scooby Doo – Velma! Here's what you'll need:

Black Rimmed Glasses
Frame #612921 – $25.95
These no-nonsense black wayfarers are a perfect way to set the tone for this classic costume!



Orange is the New Black's Alex Vause – total $56.09

Prison fashion isn't exactly stylish, but it is functional, which is why you'll probably want to hang on to much of this costume long after Halloween.

Black wayfarers
Frame #619021 – $19
Simple and straightforward: Wear these black wayfarers on Halloween and then straight through fall and winter. There is no eyeglass style that's more of a classic than this one.



Khaki V-neck work shirt
V-neck khaki scrub from Dickies – $10.99
Simple, functional and easy to care for, this is a nifty scrub top to have on hand after Halloween: If you don't work in the medical field, wear it when scrubbing your kitchen or bathroom.



Khaki Pants
Khaki skinny pants from Justice – $20.59
Flattering and comfortable, these khakis have plenty of pockets for all your Halloween candy. Wear them for casual days out on the town, or even around the house during the rest of the year.









Temporary Tattoos
Temporary Tribal from Tattoo Sales – $.74
Rose temp tattoo from Funtoos – $4.29
Alex likes her tats and they certainly add color to an otherwise bland wardrobe. You could, we suppose, get inked for the holiday, but that's a pretty big commitment. Check out these temporary tattoos instead.







Badge Holder
4×3 plastic badge holder from Specialist ID – $.48
You may have one of these lying around if you've recently been to a convention or conference. If not, now you know where to get your prison ID holder.




Breaking Bad's Walter White — $43.98


There are few TV characters more iconic than Walter White and, fortunately, getting his look is both easy and inexpensive. You'll also be well-equipped for any post-holiday science experiments that you wish to conduct:

Rectangle Frames
Frame #3132111 – $23.95
Walter is a practical fellow who wears practical glasses. These titanium full-rims from Zenni are just that: Practical. Keep 'em as a spare pair. Or not. They'll work great with this costume.



Saturday, October, 4 2014 by Lainie Petersen
Your glasses aren't just an attractive fashion accessory that also enables you to see. Your eyeglasses frame can be a blank canvas on which you can give your inner Van Gogh free rein. Inspired by the World Maker Faire, we start with a nice, wide, solid color frame with thick temple arms. That's the clean slate on which your imagination can run as far as your frame will carry it.




Custom decorating your glasses is easy! Just take a permanent marker in a contrasting color to your frame, and use it to put monochromatic or multicolor polka dots on your glasses.



Here's the finished product of how our glasses came out. Let us know what you think, and we'd also love to hear your own DIY ideas in the comments below!


Bonus: Here are some other eyeglasses frames that would look great with polka dots!



Frame #337930




Frame #287630




Frame #665130



Frame #300730




Frame #287830




Frame #200930

Finally, if you are not DYI inclined, we carry frames that come with polka dots, like these:



Frame #631118



Wednesday, October, 1 2014 by Matt Souza


I confess that I'm shivering in my chair: The end of September has brought some chilly weather! Fortunately, Fall Fashion Week has brought us some great looks by some incredible designers. We picked some of our favorite cool weather pieces by the hottest designers and put together an outfit that can easily take you from work to dinner or shopping with friends:

Tuesday, September, 30 2014 by Lainie Petersen
San Francisco Fashion Week was an amazing event, as fashion, technology, and design innovators – and the most au courant fashion bloggers – all converged to create a unique, "only in San Francisco" experience.

Zenni would never miss a fashionista event. So we were there, to learn from, revel in, and record all the latest exciting trends in fashion.




Within the concrete walls of SOMA lofts, fashion photographers clicked away, recording bloggers, designers, and techies sharing their fashion industry insights.

Masters of the trendy blogosphere Natasha Lo and Anthony Rogers discussed their approach to the "Street" part of the theme. We loved hearing them describe how they take pictures of strangers on the street, and we were really taken with Amy Roiland's description of collaborating with street people, by giving them cameras to capture their unique perspective in distinctive photo sessions.




We were especially delighted to hear Natasha and Anthony address whether it's possible to make a living from your blogging passion, because the answer is "Yes."




Also, we have to give a special shout-out to some of the fashion experts we met, who helped make the night special: Owen Geronimo, Robyn Hagan Cain of RackedSF, Caroline Curran, Kelly Huibregtse, Rafael Cano, and Lena Drozdova of LiveLoveModa & California Crown Clothing.

To sum it all up, it was simply awesome! It was great to meet you all, to hear your stories, to laugh with you, to get a sneak peek into your apps, and especially, to see you looking so great in our glasses!




We will definitely be back next time, and we hope to see you there, too!


Saturday, September, 27 2014 by Matthew Surrence